UIC's Talton scores late to defeat YSU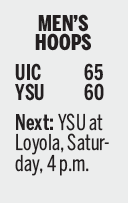 ---
Staff report
CHICAGO
In a game that featured 15 lead changes and 12 ties, it was UIC's Gary Talton's 3-pointer with 17 seconds remaining that lifted the Flames past the Youngstown State men's basketball team, 65-60, on Wednesday evening at the UIC Pavilion.
Four Penguins scored in double figures led by Kendrick Perry's 19 points and nine rebounds.
Senior Blake Allen recorded the second double-double of the season with 12 points and 10 rebounds while junior Kamren Belin scored 11 points and sophomore DJ Cole added 10.
The Penguins fall to 8-6 overall and 0-1 in the Horizon League while the Flames improve to 10-4 and 1-0 in the league.
Allen hit a 3-pointer a 3-pointer with 1:31 left that gave the Penguins a 60-59 lead — their final one. After UIC's Daniel Barnes missed 3-point attempt was corralled by Cole, Perry stepped on the mid-court stripe for a back-court violation with just 48 seconds left and gave the ball back to the Flames.
Belin blocked Talton's layup attempt to tie the game out of bounds and a defensive breakdown on the Flames' next possession left Talton open for the game-winner.
Talton's triple put the Flames ahead 62-60 and Perry's 3-point attempt with three seconds left was just short. Talton sealed the game by making 3-of-4 from the free throw line.
Youngstown State's largest lead was eight points, 16-8, midway through the first half, and UIC's biggest advantage was six, 39-33, at the 15:41 mark of the second.
More like this from vindy.com