LaBrae near-perfect first half buries Lakeview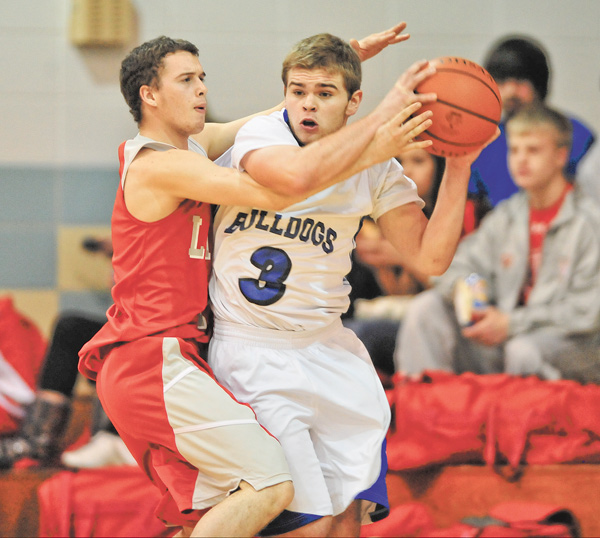 ---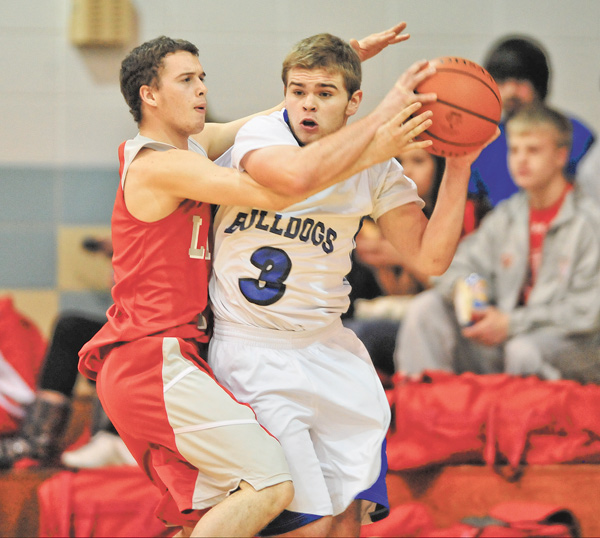 Photo
Lakeview's Justin Journey (3) tries to pass the ball under pressure by LaBrae's Chris Clevenger (1) during their All-American Conference basketball game Wednesday at Lakeview High School in Cortland. The Vikings dominated the Bulldogs, 77-19.
By Joe Scalzo
CORTLAND
Junior Peyton Aldridge scored three first-half touchdowns and LaBrae blocked a Lakeview extra point in the first half to take a 50-6 halftime lead in Wednesday's football game at ...
Wait. What's that? It was basketball?
Speaking of, one of the main explanations for the Mahoning Valley's state basketball championship drought — which is closing in on its 19th year — is football.
Whether it's tradition (the Valley has won 11 state football titles since Ursuline won the area's last basketball title, in 1994) or opportunity (Division I schools have 85 football scholarships, compared to 13 in basketball), too many area athletes choose football over basketball. Even the best area basketball programs lost athletes to football during the fall.
The Vikings, who won Wednesday's (basketball) game 77-19, are no exception.
Of the 11 players who play varsity basketball at LaBrae, all but two of them play football. LaBrae's best basketball player, Aldridge, played quarterback. He's the only Viking who plays AAU basketball in the offseason, which would raise eyebrows in other parts of the state but barely merits a shrug here.
LaBrae went just 1-9 in football this fall (although its first seven losses were all by 10 points or fewer). Unlike many area schools, Vikings coach Chad Kiser didn't have to wait for the playoffs to end to start practice. And, unlike many area schools, he didn't have to wait for his players to switch their focus to hoops.
"Our guys love to play basketball," Kiser said. "They had a rough year in football and I think this is a little more fun for them right now.
"They get a little more revenge out."
This year's senior class has won its league title every year since middle school, including both junior varsity and varsity titles the past two years. With Aldridge — a 6-foot-7 giraffe who already has more than a half-dozen Division I offers — the Vikings are arguably the only area team capable of making a run to Columbus.
"We played in the first half well enough to make a real deep tournament run," said Kiser, whose team then outscored Lakeview just 13-11 in the third quarter. "In the second half, we played like a team that might get out of districts or might not.
"The last thing we talked about was, 'Do you want to be a good team or do you want to be a great team?' Great teams play like we did in the first half for four quarters."
Aldridge had game-highs in points (24), rebounds (17) and assists (5) for LaBrae (7-0, 4-0), which held the Bulldogs scoreless for nearly 14 minutes between the first and third quarters.
"In the second half, we got a little sloppy there," Aldridge said. "We've got to keep our focus because there are better teams out there."
He'll play one of those teams on Tuesday when Poland comes to town. When the Vikings huddled just before the start of the fourth quarter, Kiser shouted at them, "It's not going to be like this on Tuesday!"
"Poland will be mentally focused and ready to go and we've got to make sure we're ready to do that and match them for four quarters," Kiser said. "Tonight, we weren't."
It didn't matter on Wednesday. It might not matter this Tuesday.
But in March, it matters. And the Valley has 19 years' worth of proof.