Eastwood Mall airbrush artist captures Great Dane's soul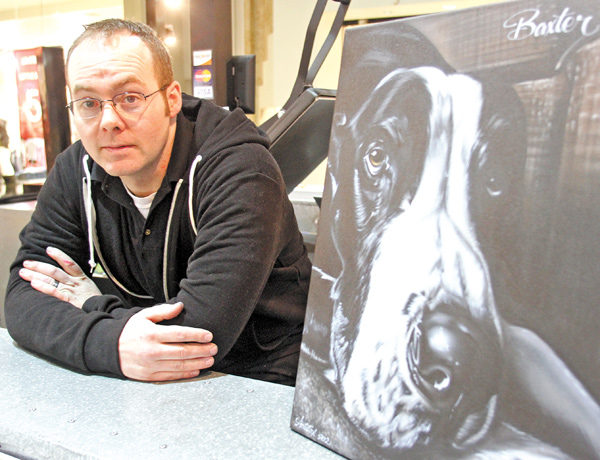 ---

Photo
Josh Shaull, owner of Airtistix Airbrush in Eastwood Mall, displays his painting of a Great Dane named Baxter. At top, Shaull airbrushes details on a T-shirt.
By JORDAN COHEN
news@vindy.com
NILES
Baxter grabs your attention as you walk by the Airtistix Airbrush kiosk at the Eastwood Mall.

A large airbrushed portrait of the Great Dane that emphasizes his haunting deep, dark eyes on his huge black and white face is prominently posted next to the dog's photo.
The artwork is the creation of Airtistix owner and artist, Josh Shaull. His store sells airbrushed artwork on demand, but he painted the portrait of Baxter for free.
Shaull, 35 of Cortland, said he discovered Baxter after a posting he made on Reddit, a popular social website with many communities including Great Dane owners.
"I asked people to send me photos of their dogs, and I would pick one, airbrush it and display it at my store," he said. "I had nearly 16 responses, and Baxter was one of the first I received."
For the family who owned the dog, Shaull's work is a gift.

"We lost Baxter last spring to a stomach ailment that is common to Great Danes," said Jim Westhoff of Greenwood, Del., a spokesman for the state's Department of Transportation. "I saw [Shaull's] posting, researched his work and noticed he likes to focus on dogs' faces, so I sent the photo."
Westhoff said his son took the picture shortly before the 8-year-old dog suffered his fatal illness.
Shaull said he was immediately drawn to Baxter's photo. "The look of his face and the fact that they recently lost him were why I knew I had to paint him," Shaull said.
The artist said the portrait took nearly six hours over several days. He kept Westhoff apprised by sending photos as his work progressed. Baxter's owner said he is thrilled with the finished work.
"It captures the soulful look of his eyes," said Westhoff. "They express so much warmth and love."
Westhoff described Baxter as unusually tall even for a Great Dane, but a "gentle giant" who was shy and timid. "He actually was nearly beaten up by a Yorkshire Terrier," Baxter's owner said. "He was one big chicken."
Westhoff called Shaull's work "something good" for his family that still grieves Baxter's loss. "He is making a print for us, and I wish I could pay this guy back somehow," he said.
Shaull, who has been creating airbrush art since he was 17, said he will always have a soft spot for dogs like Baxter.
"I once owned a Great Dane and hope to have one again," he said. "They're fantastic dogs."
More like this from vindy.com