Youngstown Celebrates Kwanzaa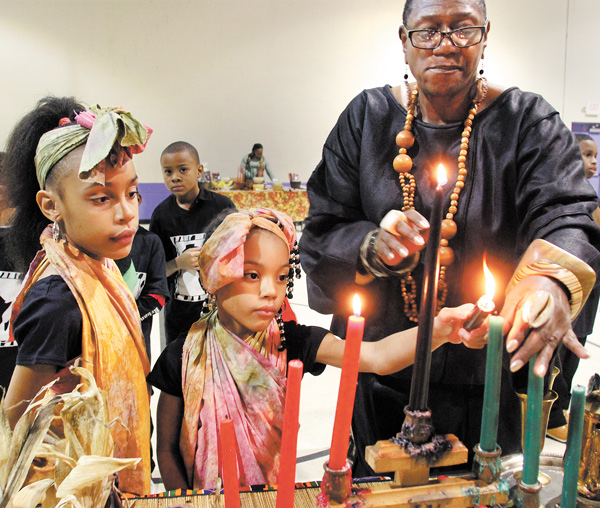 ---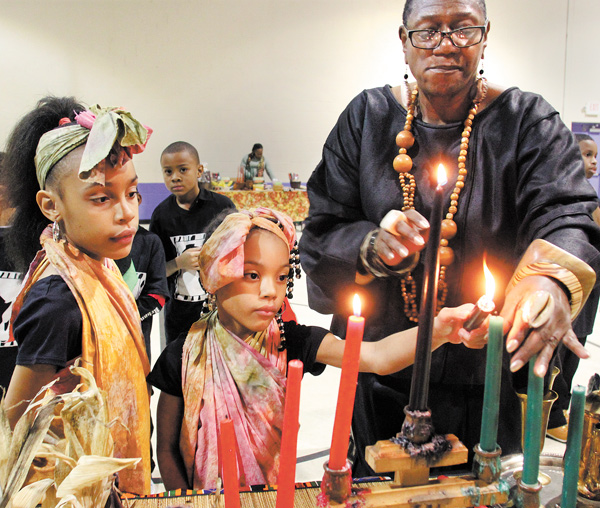 Photo
Lynnette Kimako Miller, right, a local Kwanzaa event coordinator, watches as Mercedes Dykes, 8, left, and her sister and Aniaya, 6, light candles during the final day of Kwanzaa. The McGuffey Centre hosted an event Tuesday on the final day of the seven-day holiday.
By Danny Restivo
Youngstown
After seven days of cultural celebration, local residents congregated to recognize the final day of Kwanzaa.
"Tonight we celebrate Imani; faith. And with faith, all things are possible," said Lynnette Kimako Miller, local Kwanzaa event coordinator, while speaking to a crowd at the McGuffey Centre on Tuesday evening.
The New Year's Day event was the culmination of a seven-day holiday that exalts a different core principle each day. Tuesday represented Imani, or faith, the last of the seven principles that are celebrated during Kwanzaa.
Families flocked to the centre's gym where they witnessed a blend of African traditions and black-American customs. Harambee of Youngstown Inc., a local youth organization, entertained the crowd with an African drum performance while children danced.
Thomas Smith, 25, was one of several drummers who created a rhythmic Afrocentric beat.
Smith said he had been playing drums since he was 7, and Harambee, which means "Let's all pull together," was a way for him to share his craft with the community while strengthening his character.
"Playing drums helps my timing with the other drummers, and it creates rhythm for me and the dancers," he said. "It's also helped strengthen my leadership qualities in the community."
Janerall Brown, 32, has been working with Harambee for seven years. He said Kwanzaa and the organization bring greater meaning to him and his family now after his brother recently died. He said his nieces and nephews can look upon the youth organization and the holiday as positive model to follow while living in a challenging environment.
"This keeps the cycle going for them; through events like this, now they can see the positive aspects of life," he said.
Since Dec. 26, Kwanzaa recognized seven principles which include, Umoja, (unity); Kujichagulia (self-determination); Ujima (collective work and responsibility); Ujamaa (cooperative economics); Nia (purpose), Kuumba (creativity); and Imani (faith).
Though all the principles play an intricate role in the holiday, Miller shared the importance of Imani on the final day of Kwanzaa.
"Have faith in yourself, your family, your community, and support each other no matter how difficult it may be," she said.