Penguins head for the Horizon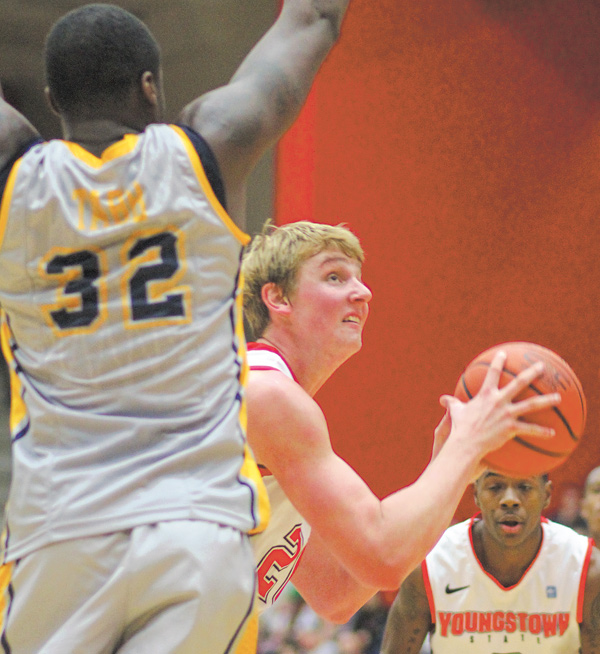 ---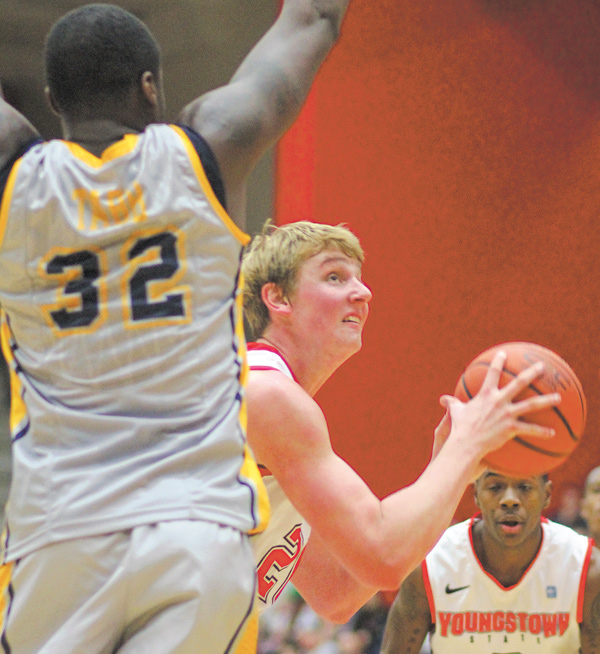 Photo
YSU's Bobby Hain (20) passes around Kent's Melvin Tabb during the first half of a game in November. Hain and the Penguins open league play in Chicago this week.
By Joe Scalzo
YOUNGSTOWN
Florida native Bobby Hain was tough enough to arrive at Monday's press conference wearing a white T-shirt — no sweatshirt, no jacket — and was still asked whether he was going to wear long johns underneath his Youngstown State jersey at this week's games in Chicago.
"No, I don't have any of those yet," he said.
How about an ice fishing rod?
You might not find Penguins at the North Pole, but they're going to come close this month as YSU begins Horizon League play with four of its first five games on the road at the conference's chilliest locations: Chicago, Milwaukee and Green Bay.
"Yeah, ain't that the truth, isn't it?" said Penguins coach Jerry Slocum, whose team begins league play on the road for the fourth-straight year. "I think that the ... nah, I can't say that out loud. I can't go there.
"It'll be a little brisk."
Like the rest of the Midwest, Illinois has been mired in a mixture of snow and subfreezing temperatures. But Chicago isn't the only thing cold from the outside.
The Penguins (8-5) are shooting just 42 percent from the field and 32 percent from the 3-point line — both are down slightly from last season — despite playing three non-Division I teams in the first 13 games.
"We've got to shoot the ball better," Slocum said. "At times this year we've really struggled shooting the ball, which is somewhat of a surprise for me.
"I thought we might have some deficiencies in guarding but I thought we really have guarded tremendously defensively."
Slocum's other emphasis is on rebounding, which has been a weakness during his eight-year tenure because of YSU's struggles with recruiting size. That's not as big of an issue this year — the Penguins have seven players 6-foot-7 or taller — but the 6-foot-10 Hain said the team has spent "basically the whole practice" on boxing out and rebounding this week.
"We have this one drill where if you don't rebound, you lose a point," said Hain, who was actually born in Chicago but moved to Florida at age 3. "So it's basically like a little fighting match down low, so it's all about rebounding right now."
"Rebounding is key in this league," said Slocum. "If you rebound, you've got a chance to win every night."
UIC and Loyola were the two worst teams in the Horizon League last season, combining for just four wins. But the Flames (9-4) brought in senior forward Josh Crittle, a 6-9 UCF transfer who was immediately eligible because he earned his bachelor's degree, and sophomore guard Joey Miller, an Eastern Illinois transfer who was granted immediate eligibility because of a hardship waiver from the NCAA.
"They got some better players," said Slocum.
Loyola (9-3), which has the best record of any Horizon League team, added a talented freshman class and got a boost from junior guard Cully Payne, an Iowa transfer who sat out last season.
"Those two teams are having really good years," Slocum said of the Chicago teams. "There's been a lot of teams in our league over the last two or three years that have started with really good records and gotten to league play and come back to reality.
"I think these two teams are legit."
Is YSU legit? The next two months will answer that question. But the Penguins are deeper than last season, which should help.
"I think our guys have learned lessons well, and now it's time to take the test," said Slocum. "In league play, you can't get too high or too low. The world's not coming to a stop with a loss, and you can't celebrate too much if you end up getting a win on the road.
"We know, historically, that everything that happens — whether it's the NCAAs or the NITs or whatever — happens out of playing league play."
More like this from vindy.com