D'Vino's fine dining is divine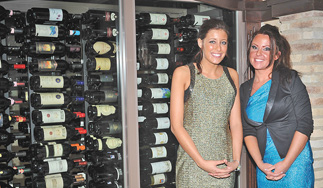 ---
Looking for a great new restaurant that offers a high-quality wine experience?
You might be surprised where you find it: in the downstairs of Alberini's in Niles.
The lower banquet room was recently renovated into D'Vino, offering a fine- dining and wine experience you would expect in a much larger city.
Let's start with the name. It cleverly combines a reference to divinity and wine.
More importantly, D'Vino delivers an ambitious and powerful wine list in three key areas: California, France and Italy.
Some of the wines are among the most sought after in the world, while others are pleasant surprises and great values.
D'Vino isn't just about the wine, though.
Their chef, Daimer Cescon, was brought from Venice to open the restaurant. He is a Michelin three-star chef, and his menu is original and diverse with items starting at $15.
There is nice representation of seafood, chicken, pork and beef along with some interesting pasta options.
The menu evolves day to day and offers the chance to taste any five selections for $50.
Cescon is a chef who understands the wine/food connection better than most.
He spent six years working in France and tasting the great wines of Bordeaux, Burgundy, and Champagne.
He also recognized the wines of the Alsace region, particularly the whites, as wines he enjoys and likes to pair with his culinary creations.
As one would expect, Cescon knows his Italian wines well. He identifies Sassicaia as his favorite from his native country, and generally identified the wineries from the Florence area as near and dear to his heart.
D'Vino has some big things planned to enhance the wine/food experience for Valley diners.
In January, all menu items will be paired with a wine or two from their list.
Cescon also will be bringing in guest chefs from around the world to do wine dinners and other special events.
The D'Vino wine list is top-notch and "will only expand," according to Cescon.
Here's a look at two favorites from my evening there:
2011 Stags Leap Chardonnay: This winery has a great reputation and it lived up to expectations. It was bursting with orchard fruit flavor balanced by subtle oak and a great viscosity. It paired incredibly well with my scallops.
2009 Masi Campofiorin: I represented Masi during my days as a fine- wine specialist and have great respect for their wines. This one delivered everything I expected and was an excellent complement to the suckling pig entr e.
Other favorites from the list:
California:
2011 Caymus Conundrum White
2008 St. Supery Meritage
2008 Groth Cabernet
2009 Nickel and Nickel Cabernet
Bordeaux:
1982 Chateau Margaux
1982 Chateau Mouton Rothschild
2005 Chateau Haut Brion
2005 Chateau Laffite Rothschild
Italy (57 wines available):
2009 Masi Campofiorin
2003 Valchairo Merlot
2010 Ornelia La Voltre Toscana
2010 Pio Cesare Barbera d' Alba
It's exciting to see such a progressive, wine-themed, fine-dining experience available to us right here in the Valley. They have some ambitious plans for wine events that should be really great experiences for those of us who love the vino.
More like this from vindy.com