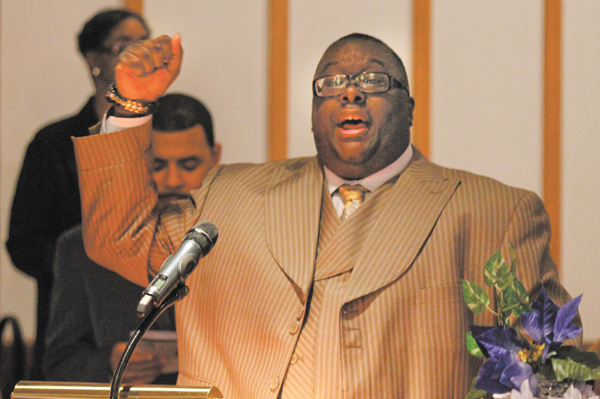 ---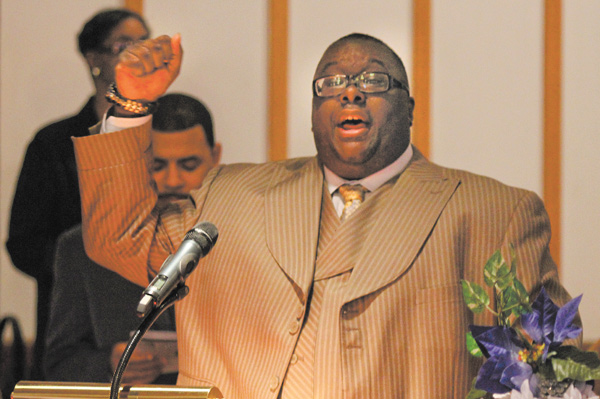 Photo
The Rev. Dr. Lewis W. Macklin II leads the congregation in worship during the annual Emancipation Proclamation and Installation Service, which was Tuesday at Tabernacle Baptist Church in Youngstown. State Sen. Nina Turner of Cleveland was the main speaker.
By Sean Barron
YOUNGSTOWN
The sacrifices of countless slaves more than 150 years ago have made life a lot easier for many black people today, but that still leaves no room for complacency, a state legislator and workers' rights advocate from Cleveland says.
"We owe our foreparents a debt we can't repay, but at least we should make a down payment," state Sen. Nina Turner of Cleveland said during Tuesday's annual Emancipation Proclamation and Installation Service at Tabernacle Baptist Church, 707 Arlington St. on the North Side.
Turner was keynote speaker for the 2 Ω-hour morning gathering, which recognized and celebrated the 150th anniversary of President Abraham Lincoln's signing of the Emancipation Proclamation on Jan. 1, 1863. The historic document abolished the legalization of slavery, set many slaves free and led to the enactment of the 13th, 14th and 15th Amendments.
Hosting the service, themed "The Gracious Favor of Almighty God," were the Interdenominational Ministerial Alliance of Youngstown & Vicinity and the Baptist Pastor's Council of Youngstown & Vicinity.
Turner noted that many "headliners," including people such as Sojourner Truth and Harriet Tubman, led to the document's signing by having laid the foundation for something greater than themselves.
The decree freed slaves in the South as well as in territories still rebelling against the government, but did little for thousands of slaves in bordering states such as Missouri, Maryland and Kentucky, she explained.
Nevertheless, Turner said, it provided the groundwork for the successes of many black leaders.
"The Emancipation Proclamation laid the foundation so mother Rosa Parks could sit, and Dr. [Martin Luther] King could walk and President Obama could run," she said to applause.
Turner used a wishbone, a jawbone and a backbone as metaphors for maintaining hope, having the courage to speak for what's right and standing up for what's just and fair. She urged the hundreds who attended the service to do all three.
"On this 150th anniversary of the Emancipation Proclamation, we all still need to be emancipated," said the Rev. Jim Ray, former pastor of Youngstown State University's Campus Protestant Ministry.
The Rev. Mr. Ray noted that it's just as important today to stand up to injustice and hatred as it was when King spoke on the urgency of people of all races and cultures to live peaceably with one another.
The Rev. Kenneth L. Simon, pastor of New Bethel Baptist Church, said that many blacks have made strides but still face major challenges such as being victims of predatory lending practices and unwittingly depositing money in banks that fail to invest in their communities.
In addition, many young black entrepreneurs still find it difficult to secure funding to start businesses, he continued.
The gathering also included a presentation by Jaladah Aslam, who was the recipient of this year's Powell Heritage Award, named after the late Rev. Elizabeth Powell, founding pastor of the World Fellowship Interdenominational Church and a longtime social-justice and human-rights advocate.
Aslam, vice chairwoman of the Community Mobilization Coalition and president of the Youngstown/Warren Black Caucus, received the honor in recognition of her work in the labor movement and politics.
Aslam, who's also in her second four-year term as vice chairwoman of labor with the Mahoning County Democratic Party, urged attendees to exercise their right to vote in major and minor elections.
Others who made remarks and read from Scripture during Tuesday's service were: the Rev. Lewis W. Macklin II, pastor of Holy Trinity Missionary Baptist Church and the event's worship leader; the Rev. Dr. Robin Woodberry, New Bethel's assistant pastor; Marcia Walker, chaplain of the Youngstown Police Department; and the Rev. Eric U. Brown, pastor of Community Church of God in Campbell.