Published: Thu, February 28, 2013 @ 12:45 p.m.
VTR - The Lemon Grove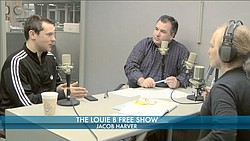 Video Set
Vindy Radio is back on the airwaves from 8 a.m. to noon today joined by Louie Free.
In addition to Louie's normal program, we will have:
@ 9, Public Library of Youngstown and Mahoning County's director, Heidi Daniel and Janet Loew, library communications and public relations director, will visit to chat with Louie.
@ 10, Jacob Harver, owner of The Lemon Grove, stops by to discuss downtown Youngstown, entrepreneurship, and caring for exotic birds.
@ 11, Vindy editors Todd Franko, Bertram DeSouza, and Dennis Mangan review February's news stories.
Click below to listen to the show live from Vindy.com.
And by Friday morning, the best of the show will be featured in video segments on vindy.com.
Click here to listen to the show.