Phantoms shut out Steel, 4-0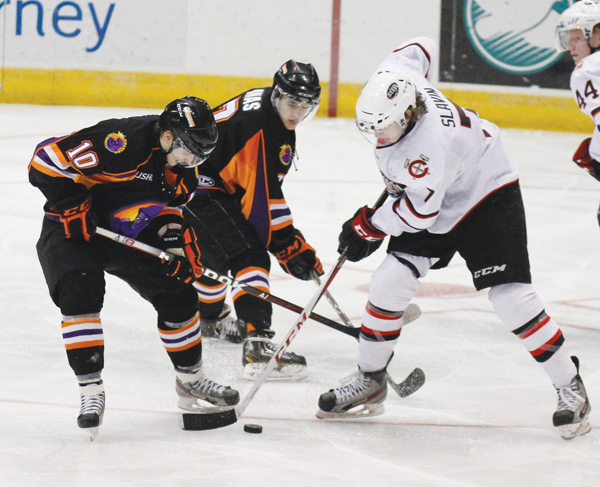 ---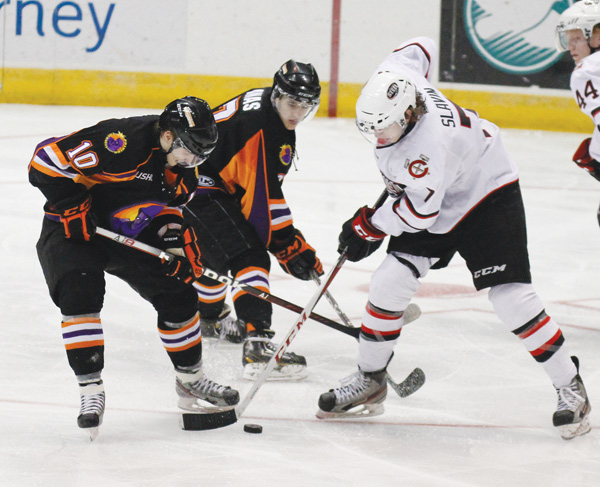 Photo
Youngstown's Nathan Walker (10) and Sam Anas (7) battle Chicago's Jacob Slavin for the puck during the Phantoms' School Day game Wednesday at the Covelli Centre. Hundreds of students from area schools watched as the Phantoms shut out the Steel, 4-0.
By Tom Williams
YOUNGSTOWN
Good morning, class. Today's lesson in Hockey 101 is how a player responds after a four-game suspension.
Austin Cangelosi, your thoughts.
"I was ecstatic — two weeks is a long time," said Cangelosi after Wednesday's 4-0 victory over the Chicago Steel in the Phantoms' School Day game at the Covelli, "Watching the team play from the stands killed me.
"When I got to the locker room today, I was focused, ready to go — I couldn't wait," said Cangelosi who leads the team with 43 points after scoring three goal. "I was like a little kid on Christmas."
Also fired up was Phantoms goaltender Sean Romeo who stopped 24 shots to extend his season-high record for shutouts to five.
"The team is playing well in front of me so it's easy to get excited to play," said Romeo after his 28th start in the Phantoms' last 30 games.
In his first game since Feb. 10, it took Cangelosi just four minutes to score his first goal. The second-year Phantoms center scored from the faceoff circle, snapping a rebound past Steel goaltender Alex Sakellaropoulos. New linemates Luke Stork and John Padulo had assists.
"Both really worked hard for me and set me up, making it easy for me," Cangelosi said. "I was able to get a lot of shots on net."
Cangelosi almost had another goal four minutes later, but Sakellaropoulos stuffed his short-handed breakaway attempt. Before the period ended, Cangelosi had another short-handed breakaway, with Sakellaropoulos foiling a backhand attempt.
After Kyle Connor scored early in the second period, Cangelosi made it 3-0 on a set up by defenseman Eric Sweetman.
"When he pushes up and jumps in the rush, he creates so much offense for us," Cangelosi said of Sweetman. "It makes a world of difference."
Three minutes into the third period, Cangelosi backhanded the puck past Sakellaropoulos, but it took several minutes for referee Paul Maciejewski to confirm the goal with a conference.
Phantoms head coach Anthony Noreen said the on-ice officials spoke with the goal judge who had turned the red light on.
"It hit the inside crossbar," Cangelosi said. "I heard it, I saw it but I felt like I was the only one — well, me and the goal judge."
Noreen said Cangelosi was "about as excited as I've seen a kid to play an individual game probably since I've been here. The first goal was just a typical Austin goal. The puck finds him with a wide-open net."
We knew he was going to be good today," Noreen said. "Obviously, the goals were a bonus."
Wednesday morning's game was played in front of approximately 1,500 energetic children. It's the annual game where Sparky the mascot earned cheers as if he were the newest member of One Direction, there was real competition to dance well enough to get on the video board and screams and shrieks greet the "make noise" signs.
The fans were loudest in the third period when Phantoms defensemen Jimmy Mazza and Ryan Lowney fought the Steel's Tyler Hill and Drew Smolcynski.
Phantoms penalty killers again were on top of their game, skating off Chicago's seven man-advantages. With five minutes to go, Romeo made a glove save to rob the Steel's Danny Fetzer from close range to preserve his shutout bid.
"He was extremely calm, but he had energy when he needed it," Noreen said of Romeo.
Questions? Yes, you in the back.
"Is the one-finger salute the Steel's Fetzer gave Kiss Cam appropriate behavior?"
Class dismissed.