Howland wrestler is half-Nelson fan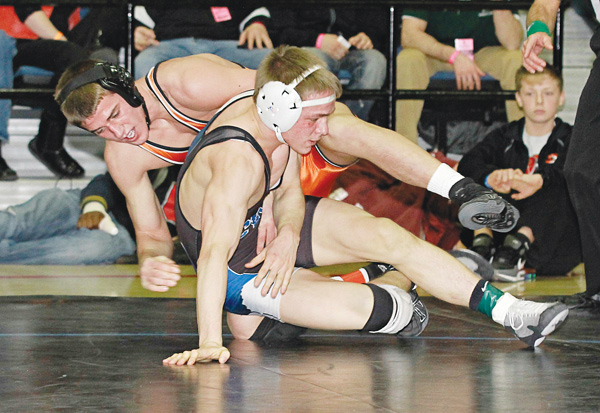 ---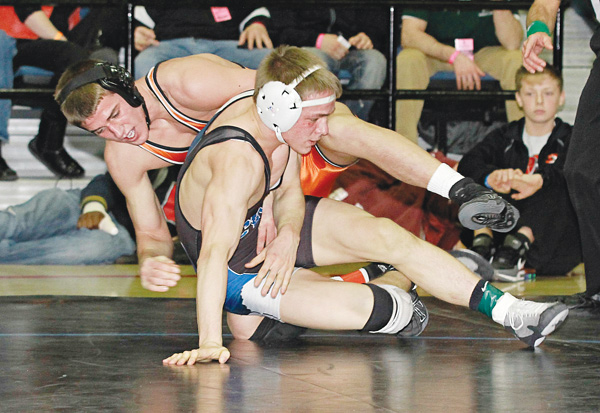 Photo
Howland's Gabe Stark (in orange) tries to take down Jeff Hojnacki of Cuyahoga Valley Christian Academy in the championship round of the 145-pound weight division of the Division II sectional at Alliance High School. Stark, who won 4-1, is among 17 area grapplers headed to the state wrestling competition this weekend in Columbus. Stark, a fifthplace state finisher at 138 pounds last year, will take on Carrollton junior Tristan Stallard.
HOWLAND
When you need health care, you go to a doctor.
When you need food, you go to the grocery store.
When you need car repair, you call a mechanic.
When you need information, you ask Gabe Stark.
Howland's state-qualifying wrestler at 145 pounds spews forth a wealth of words in a short time, even while panting on a stationary bike in training for the OHSAA tournament, which begins today in Columbus.
"I'm real excited and I should have the edge on anyone who's a first-timer," Stark (39-3) explained as he prepares to take on Carrollton junior Tristan Stallard (34-13).
Stark speaks as a fifth-place state finisher at 138 pounds in 2011-2012, who won his first district crown at Alliance last Saturday.
Stallard qualified fourth out of the Heath district.
Stark's litany of credits starts with his father, Bob, who showed his son a scrapbook when Gabe was in the second grade.
"I signed up for the youth program and stuck with it ever since," said Gabe Stark, who also mentioned Jack Raver, Dom Mancini and Steve DiMaiolo among those coaches who have had an impact on Stark's development.
If you plan to wrestle Stark, be aware of his favorite move — the half-Nelson.
"It's the most basic and best," Stark said of the under-appreciated half-Nelson. "If you're working half-hard on top, they'll [opponent] be twice as tired as you just from trying to fight it off. It's the easiest to defend but the easiest to put on and opponents don't expect it."
Gabe Stark: the oracle of Infowrestling.
Poland's two qualifiers are freshman Dante Ginnetti (106) and junior Mike Audi (170).
Ginnetti (37-11) will meet another freshman, Tyler Warner (36-5) of Uhrichsville Claymont. Ginnetti was the No. 4 qualifier out of Alliance.
Audi, who was fourth at Alliance, is lined up against New Philadelphia's Mark Barrow (32-2).
Although wrestling is still a club sport at Poland, Both Ginnetti and Audi are their school's first multiple state qualifiers since Max and Ben Pearce represented Poland in different years as independents in the mid-2000s.
The area has three alternates: Canfield's Stan Socha (182), Howland's Mike Bell (285) and Fitch's Cameron Rezapourian (170).
All three placed fifth in their respective districts: Socha and Bell at Alliance and likewise for Rezapourian at Mentor.
A junior, Socha's previous best finish was a fifth in sectionals in 2011-12.
"I'm going to work hard in the off-season, hoping to stay at 182 or maybe go to 195, but I'll increase the weights and lift more."
Bell goes to Columbus as a backup with a 30-10 record.
"It sucked that I went the whole year with an eye on going to state and then not place. I had high hopes of winning state, but, at this point, I'm not in a position to wrestle anymore," said the 16-year-old.
Bell, the starting left tackle on the Howland football team, will use his sophomore season as a learning experience.
"If I'm lucky enough, I'll wrestle again this year, but, if not, going down next year won't be so much a surprise and I'll at least be familiar with the atmosphere."
Rezapourian (41-11), a junior, will go to Columbus, report in, then see what happens at weigh-in.
"If someone is hurt or not able to compete — illness, injury, skin infection — then he would wrestle," said Fitch coach Brett Powell.
"It's a heart-breaker for him to get that far, then not make it," Powell said of his 4.0 student-wrestler. "He's had a lot of great weekends and some so-so weekends, but he still finished in the top four everywhere. Still, the cutoff is four and he was fifth. He'll take it all in and be down there representing Fitch, to an extent, but not to the extent that he and coaches had hoped for."
As president of the Ohio High School Wrestling Coaches Association, Powell will be busy this weekend with meetings, awards and working state the tourney.