Canfield girls balanced, focused group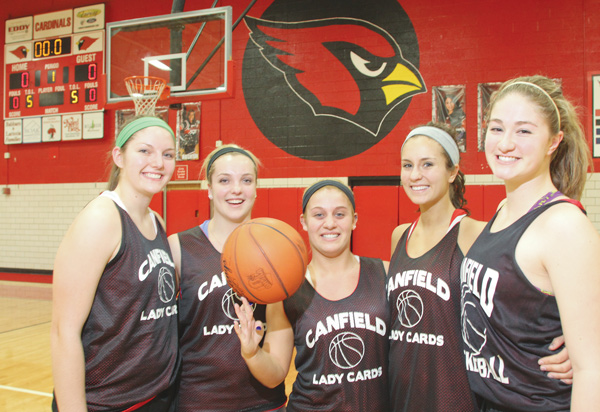 ---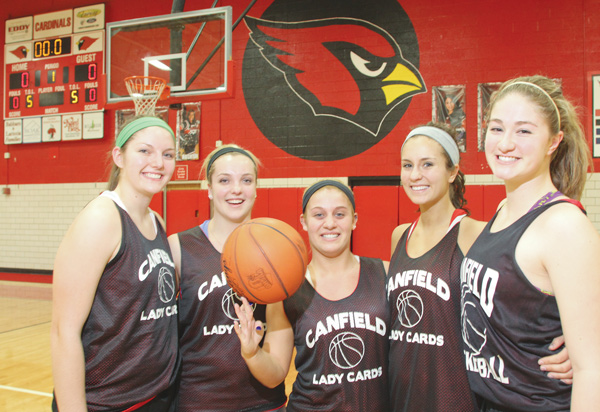 Photo
The Canfield girls basketball team — led by seniors, from left, Kayla Barko, Abby Baker Paige Baker, Allie Pavlansky and Sabrina Magapora — is ready to face Struthers today in a Division II district semifinal at Austintown High School.
By Brandon Judeh
Canfield
Almost one year ago to the day the Canfield girls basketball team was up against an undefeated Ravenna team ranked second in the state.
Few gave them a chance. It didn't matter.
The Cardinals stunned the Ravens and then shocked West Branch on a last-second shot by Sabrina Mangapora to make an unlikely run into the Division II regional tournament.
Now here the Cardinals are again, only this time they are wearing the target on their back after going 23-1 and winning the All-American Conference's American Division.
"It was difficult going 23-1 because we had some really tough teams on our schedule and at one point played four games in seven days and won all four," Canfield's Allison Pavlansky said. "It's definitely our goal to be the best team we can possibly be."
Canfield is an experienced team, featuring five seniors; Mangapora, Pavlansky, Kayla Barko, Paige Baker and Abby Baker.
Each of them bring a unique style of play to the court, but there is one thing they all have in common; the ability to know where each other is on the court at all times.
"We all have played together since fourth grade and it's hard to explain, but I know where each of them are going to be on the court and what they are going to do," Pavlansky said.
Abby Baker agrees.
"It's like I have the ability to read their minds and know exactly where they are going to be," she said. "Actually, I really can read minds. Wow, we are a really weird group of girls."
Their humor belies a disciplined and focused team with their eyes set on another district title and maybe more.
"We take things one game at a time and we know that the district tournament is first and Struthers is the game in front of us," Paige Baker said.
Canfield is perhaps the most balanced and focused team in the area. Whether it is their 3-point arsenal, led by Abby Baker and sophomore Rachel Tinkey, shut-down defense featuring Pavlansky and Paige Baker or their dominant post play that is led by Mangapora and Barko this team seems able to do it all.
A big part of the Cardinals' poise comes from their coaching staff.
"I have a great assistant coach in Matt Reel and he does a fantastic job of keeping the girls focused," said Canfield coach Pat Pavlansky. "I'm really going to miss this group of girls once the season is over. They represent this school and community so well and I'm going to be sad to see them go."
Canfield had little trouble with opponents this season, beating them by an average of 28 points per game and having 19 double-figure wins, but they have had their fair share of close games including two narrow wins against Fitch and a one-point win at Boardman.
"Collectively, as a group, we always find something inside of us that gets us out of a tough situation and we work together and ultimately that gets us the win," Barko said.
Canfield's next tough matchup will be tonight against AAC rival Struthers at 6 p.m. in a Division II district semifinal at Fitch .
The Cardinals are aware that any practice, bus ride, warmup or game, may be their last, but all of them agree that they aren't about to let that happen.
"That's what makes the district tournament the district tournament — the stakes are higher, and it's do or die," Mangapora said. "We are a driven group of people and we have fun doing what we are doing. Why stop now?"