Boardman's Mancini ready to do his thing in Columbus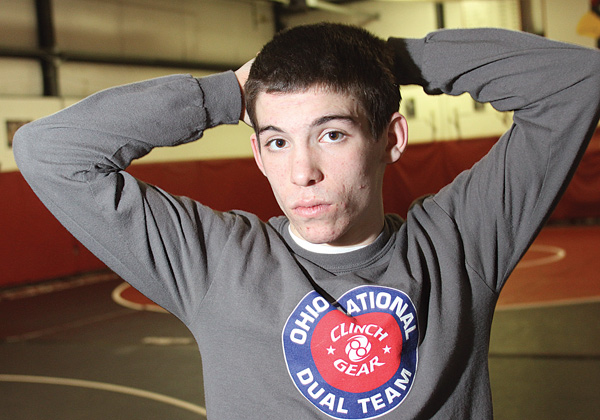 ---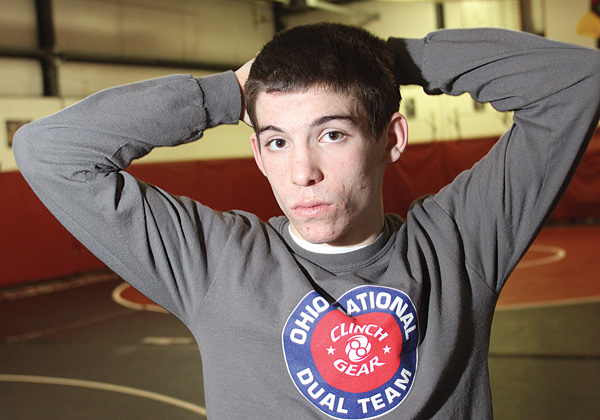 Photo
Nick Mancini is among 17 area wrestlers who will be seeking state championships beginning Thursday. Mancini is a 113-pounder in Division I.
Boardman's Mancini chasing
Division I state title at 113 pounds
Canfield
Boardman senior 113-pounder Nick Mancini has a simple plan for success after having been a state wrestling qualifier twice before.
It doesn't require watching a lot of film or an analysis of statistics.
"I don't need any scouting," Mancini said.
"I just go out and do my thing," he said Tuesday afternoon during a media session at Canfield High's sauna-like wrestling room.
Mancini was referring to his preparation for Oregon Clay's Jared Davis (32-11), his first-round opponent in Columbus this weekend.
"No 1-2, top-12 for me," Mancini said of a 1-2 won-loss record that earns a top-12 finish. "I'm shooting for first. I think I can do it," said the 17-year-old son of Boardman coach Dom Mancini.
This time, Mancini is hoping to upgrade his two previous Division I showings in Columbus that resulted in back-to-back 1-2 records and top 12 finishes in the 106-pound weight class as a junior and sophomore.
As a third-time state qualifier who is running out of time, Mancini (45-2) wants to punch that ticket to the top.
His two losses were to wrestlers from Massillon Perry and Carrollton, but he won't meet either because one was in a different weight class and the other was beaten by Mancini at the Mentor district en route to Nick's first district championship.
Boardman's other state qualifier is Joe Cordova at 182, who finished fourth at district after reaching the second round of consolations at district a year ago.
"I've been working for this for a long time," Cordova said of the quest. "I was yelling and screaming so much that the ref had to calm me down."
Cordova (32-8) meets Nate Hall of Lewis Center Olentangy, a sophomore with a 41-8 record.
"He pinned me in the finals of the Top Gun, but I think it'll be different now that I'm healthy," Cordova said of wrestling after tearing an AC joint in his right shoulder. "I thought I could wrestle, but it didn't turn out well. It was a close match until he caught me on my back."
To make the difference between his junior and senior years, the 6-2 Cordova said he dedicated himself to training.
"I put in a lot of mat time and lifting, so it adds up," said Cordova, who quit football as a freshman to focus on wrestling.
Hall was the 182-pound champ out of the Hilliard Darby district.
Division II
Canfield's John Poullas (170) seemed relaxed in the room draped in his school's red and black colors.
The senior — a first-time state qualifier — was a Division II district runnerup at Alliance High after losing to Southeast's Brandon James, but Poullas snapped the Canfield record for most wins in a season when he beat Poland's Mike Audi, 3-0, in a semifinal.
"I wanted to do better, but I'm happy to be going to state, so I can't complain," Poullas (44-5) said of the championship match loss to James.
The win over Audi represented the 44th for Poullas, who broke the previous mark of 43 held by Alex Benedict.
"It's an honor to have set a school record for most wins in a season," said Poullas, who will battle Matt Dennis of Uhrichsville Claymont in Columbus.
Poullas has no reservations about being on the big stage.
"I'm going to give it my all, knowing I left everything on the mat," said Poullas, Canfield's first state qualifier since Robby Reed and Benedict two years ago.
division iii
The area's lone Division III qualifier was Crestview senior Matt Hardenbrook (170), who became his school's first state wrestling qualifier in the program's two-year existence.
As a reward for finishing third at the Garfield Heights district, Hardenbrook (26-5) will meet Grant Price of Sycamore Mohawk (42-5) in Columbus.
"I'm happy and proud to have gotten this far," said Hardenbrook, whose football background as a halfback and outside linebacker helped.
Hardenbrook went to Beaver Local schools and wrestled for the Little Beavers before transferring to Crestview as a freshman.