Piecemakers stitch quilts, coats, pj's for those in need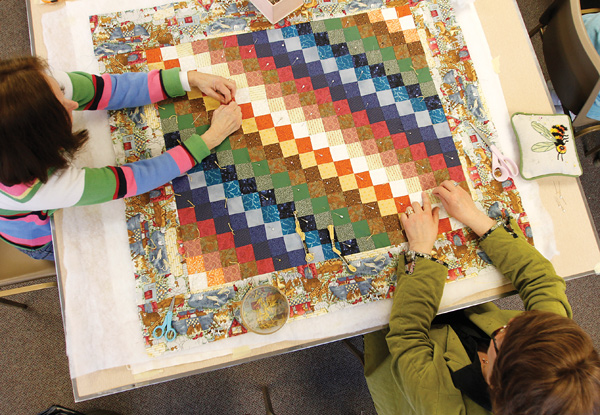 ---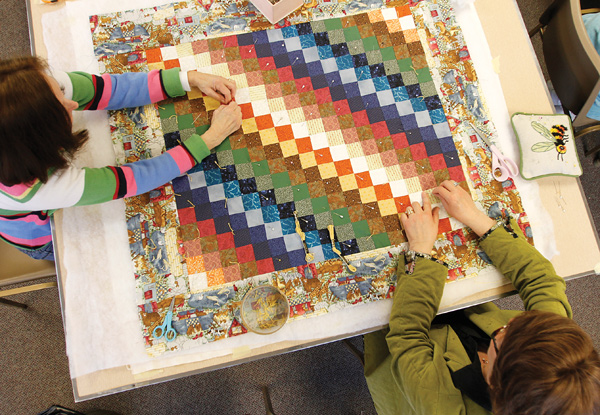 Photo
Linda Spencer, left, and Sherry Ziegler, members of Bethel Lutheran Church Piecemakers, work on a small-square rainbow colored quilt during a gathering Tuesday at the church in Boardman.
By LINDA M. LINONIS
linonis@vindy.com
BOARDMAN
Bethel Lutheran Church Piecemakers pool their talents, creativity and enthusiasm to stitch quilts in service to others.
Their effort is motivated by their faith, which directs them to help the less fortunate, and their interest in sewing.
Three of the original members, Susan Burgeson, Helen LoSasso and Marlene Martin, remain with the 10-member group. In 1991, Burgeson founded the special-interest group, which is well-organized and productive.
"The group began as a way to have fun," Burgeson said.
The Piecemakers evolved from making quilts and other sewing projects for themselves, family and friends to making baby quilts for baptisms at the church, then to selling quilts and other sewing projects at the church bazaar during the 1990s. "Now it's about service," said Burgeson, whose husband, Paul, was pastor and now is visitation pastor.
"We feel blessed and see this as an outreach," said LoSasso, a Bethel member. "It's reaching out to give a stranger warmth."
Martin, a member of Redeemer Lutheran Church, said participants "can learn a lot" and "do something worthwhile."
The Bethel News newsletter reported that in 2012, the Piecemakers donated 100 quilts to the Salvation Army and gave 25 quilts, 15 winter jackets and a dozen children's pajamas and nightgowns to the Rescue Mission of the Mahoning Valley.
Last year, Piecemakers decided to support the Rescue Mission's Family Services Division through its donations.
Records show members have made 142 baby quilts for baptisms and 17 quilts for others being baptized. But records are sketchy. "We're too busy working to keep track," Burgeson said.
Burgeson noted Piecemakers began with one quilt top, some scrap fabric and $60 in donated funds. They occupy a windowed, second-floor room at the church, where their supplies, sewing machines, quilts and projects-in-progress are stored.
The quilts, in a variety of colors and interesting designs, provide a beautiful backdrop to the work. But it's the women and their enthusiasm that add the vitality.
"It's all about teamwork," Burgeson said of the process that takes a bolt of material, batting and backing to become a quilt. First, the women cut out blocks, arrange them in an attractive pattern, sew the blocks together, then add the batting and the backing, sew it together and finish off the border. "It's like a sandwich," she said.
Ruth Schenker attends Victory Christian Center, and her husband attends Bethel. "It's a nice opportunity to be creative," she said. "Knowing you're making something for someone who has little or nothing is a wonderful feeling." She added she liked the "girls' day out."
Doris Gluck, a Bethel member who's been in the group for 13 years, said, "The socializing is nice and so is the companionship. It's doing something constructive."
A "love of sewing" brought Bethel member Marta Konrad to the group. She believes "helping people who don't have much" is the heart of the Piecemakers.
A 12-year participant, Margit Zielke said the group is a "a lot of fun" and everyone "does what needs to be done." She said faith is involved because Piecemakers help the less fortunate.
Marlene Sherfel, a member of Zion Lutheran Church in Cornersburg, has participated for two years and was introduced to the group by a family member. "You feel like you're accomplishing something here," she said.
A new member at a year and a half, Sherry Ziegler said she learned about the Piecemakers through The Vindicator and "was so welcomed" into the group. "I think the group provides a way to give back," she said.
Bethel member Linda Spencer, a seven-year participant, added that there "is nothing like the feeling of helping someone."