Turner gets 19 years for killing Liberty woman, teen daughter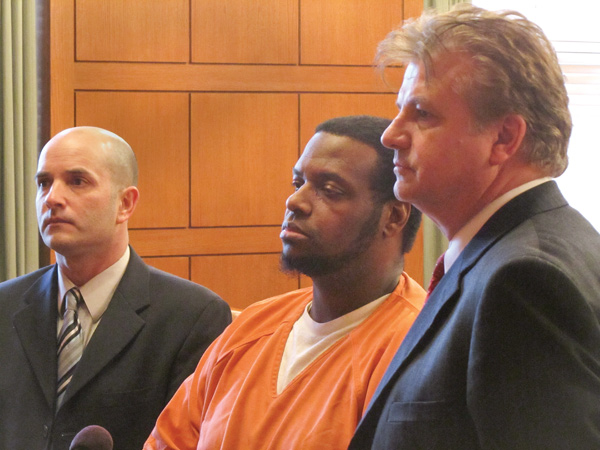 ---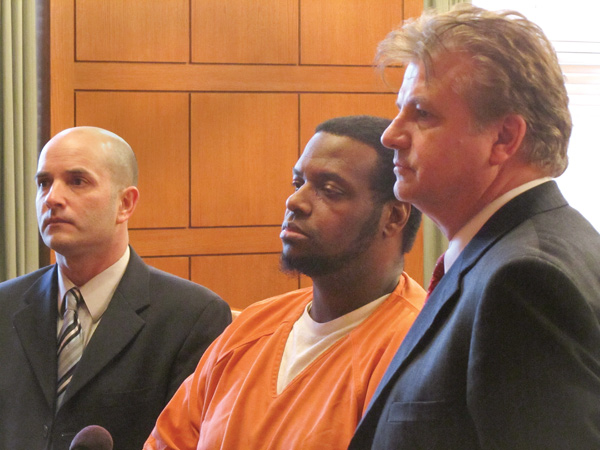 Photo
Attorneys David Rouzzo, left, and Matt Pentz of the Ohio Public Defender's Office stand with Melvin Turner during sentencing in court Tuesday.
By Ed Runyan
WARREN
Melvin L. Turner, 39, will spend 19 years in prison for the Nov. 15, 2009, shooting deaths of Wilneice L. Green, 28, and her 13-year-old daughter, Ja-Brajasia, of Northgate Drive, Liberty Township.
Turner pleaded guilty Tuesday in Trumbull County Common Pleas Court to two counts of involuntary manslaughter and other charges.
"It's not the outcome we would want," Chris Becker, assistant Trumbull County prosecutor, said after the sentencing by Judge W. Wyatt McKay.
Turner was indicted on murder and other charges that could have landed him in prison for life. Becker said prosecutors lacked any physical evidence to tie Turner to the killings, however, and would have had to rely on the testimony of Turner's four co-conspirators at trial to convict him of murder.
The four, three from Youngs-town and one from Liberty, pleaded guilty to various crimes in the case and will receive prison sentences of between six and 23 years in the coming months. But the four lied to police and lied to the grand jury, so their testimony would have been suspect at trial, even though they passed lie-detector tests, Becker said.
Those tests would not have been admissible in court, and the judge would have had to advise the jury that their testimony should be considered with "grave suspicion" because they are co-defendants, Becker said.
The four others said they and Turner went to Green's home to kill Semmie Shorter, 38, who lived there, Becker said, but Turner killed Green and her oldest daughter inside the darkened home instead. Four younger children were home but not shot.
Becker said investigators still don't know why Turner shot Green in her bed and Ja-Brajasia as she fled from the home. "We don't have a motive."
Earlier Nov. 15, Shorter had been accused of having sexual contact with a child, and the five had gone to Green's house to kill him because the victim of the sexual assault was related to some of the defendants.
Shorter later committed suicide.
An affidavit from the Liberty Police Department said the girlfriend of Marquese J. Floyd, 29, of Atkinson Avenue, Youngstown, said Floyd told her he "didn't know why [Turner] had killed Wilneice and Ja-Brajasia" because "it wasn't supposed to go down that way."
Police said Floyd supplied the AK-47 Turner used in the killings and disposed of the weapon. He's expected to get a 23-year jail sentence.
Becker said Turner, who was not from the Youngstown area, was dating Floyd's stepmother.
After the hearing, Tameika Green, sister of Wilneice Green, said she was not satisfied with the 19-year sentence, "but he's off the streets. I hope he repents and all those years [he'll spend in prison] he'll realize what he did and how he did it. He took a great deal from us."
Green also spoke in the courtroom before sentencing, saying she worked at Walmart with her sister, who was her best friend.
"I am left with a pain, sorrow beyond belief," she said. "I ate lunch with her every single day. On this day, we were at church. I am left with a 4-year-old, 5-year-old, 10-year-old and a 14-year-old, and to try to fill their mother's shoes."
She said Ja-Brajasia "wanted to be an 'American Idol' and a chef."
Turner still has several months left on a federal prison sentence in Baltimore on a fraud charge before he will begin serving his Ohio prison sentence.
Becker said the case is a sad example of why people should let authorities handle criminal matters instead of taking revenge because Shorter had admitted to the offense.
"If the five people would have let law enforcement handle it, he would have been prosecuted," Becker said.
In addition to Turner and Floyd, a third man entered the house the night of the killing, James M. Christian, 21, of Dale Street, who agreed to an 18-year jail term.
Denise Jackson, 28, of Trumbull Court, Liberty, has agreed to a 13-year prison sentence for her role in the crime. Police say she told Floyd about what Shorter had done Nov. 14, 2009, and said Shorter had to "pay" for it.
Appollonia E. Baker, 26, of Miller Street, Youngstown, agreed to a six-year sentence. Police say Baker was the driver of the car containing the five defendants.