Fitch forces OT, eliminates Howland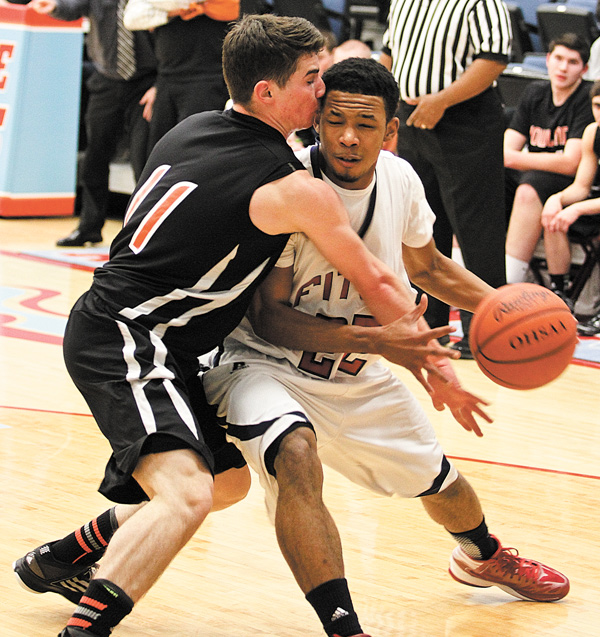 ---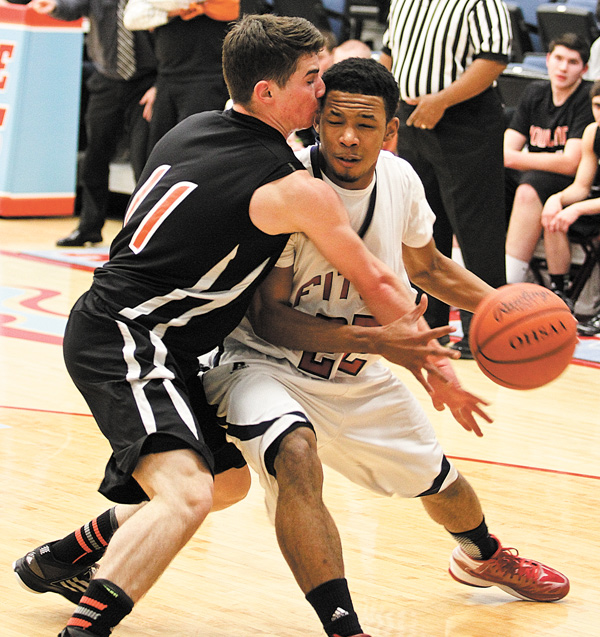 Photo
Fitch's Quincy Higgins (22) and John-Mark Weisman of Howland butt heads literally during the Division I sectional basketball game Tuesday at Alliance High School. The Falcons stunned the Tigers, 70-67, in overtime.
By Tom Williams
ALLIANCE
After erasing an 18-point third-quarter deficit, the Austintown Fitch High boys basketball team was still in trouble with a minute to play.
Trailing 60-56 in Tuesday's Division I tournament opener against Howland, the Falcons needed a big shot to extend their season. No one was surprised when Jessie Driver delivered.
At the top of the key, Driver launched a prayer and was slammed by Tigers defender John-Mark Weisman. Driver didn't see the ball go through the net.
"That was crazy, I didn't even watch the ball," Driver said of his fall to the court. "At that point I was just thinking, 'good, it's a whistle.'
"When it went in, I just got up and acted it out like I meant to do that."
Driver made his free throw, forcing overtime. Then he hit a base-line 3-pointer to open overtime as the Falcons stunned the Tigers, 70-67.
"I could not be more proud of a group of guys who could have folded their tents easily at halftime," Fitch coach Brian Beany said after the Falcons' first postseason win in his two years at the helm. "They didn't — they stuck with it."
Trailing 33-16 at halftime, Fitch (10-13) opened the third quarter with a 10-1 run. Howland (10-13) responded with a 9-0 run. Later, Reece Bogan's 3-pointer gave the Tigers a 46-28 lead.
With 2:43 remaining in the third quarter, momentum shifted when the Falcons' Alex DiFrancesco made a basket, was fouled and Howland coach Bill Bogan was assessed a technical. After DiFrancesco made his free throw, Driver sank the two technical free throws.
The Falcons closed the quarter with a 10-4 run to slice the Tigers' lead to 50-43.
Tied 60-60, the Tigers used the final 37 seconds to set up Arbie Murray's last-second jump shot that missed. Driver said it was hard pulling back as Murray shot.
"It was very difficult," Driver said. "I wanted to reach but I remembered we were in foul trouble. So I figured play it smart and if he hits it, tip my hat to him."
Bogan called the collapse "disappointing. We didn't come to Howland to be 10-13. We came to Howland to be an upper-level basketball team, and in our opinion we underachieved this year.
"We didn't come here to get knocked out in the first round of the tournament. We came here to win games in the tournament. Until we can do that on a regular basis, we're not going to be satisfied."
Beany wasn't surprised at his team's slow start.
"I don't know if it was nerves at first or what, but the first half, we were just there," Beany said. "I knew, 6 o'clock game, not a lot of people in the stands at the start, that we would have to find internal motivation. We had to somehow get it started."
Driver was the Falcons' engine. After scoring four points in the first half, Driver connected for 28 — 17 in the third quarter, eight in the fourth and his big 3-pointer in the bonus session.
But in the first half, Beany said Driver was frustrating him.
"He's so talented — sometimes I think he just settles for a lot of things," Beany said. "Once he started to get going, he had that look in his eye. When he gets that look, he can score points in bunches."
DiFrancesco and Quincy Higgins each scored 12 points while reserve Mike Butcher hit two big 3-pointers in the second half.
For the Tigers, Weisman and Brendan Cope each scored 21 points while Bogan netted 13.
Asked if he'd ever been involved in such a big comeback," Driver said. "Never. I don't think I ever probably will be again."