Eargle reaches 1,000-point mark in YSU's loss to Valpo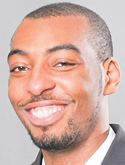 ---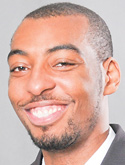 Photo
Staff report
VALPARAISO, ind.
Senior forward Damian Eargle surpassed 1,000 points for his career for Youngstown State on Tuesday night, but the Penguins lost a Horizon League road game.
Ryan Broekhoff and Kevin Van Wijk recorded double-doubles in their final regular-season home game, and Valparaiso clinched at least a share of the Horizon League regular-season title by beating the Penguins, 73-64.
Eargle, a Warren Harding High School graduate, finished with 12 points. He is the 34th player in YSU basketball history to score 1,000 points.
Eargle scored 10 points in the first half as the Penguins took a 40-33 lead at the intermission.
YSU (16-13, 7-8) led by as many as 13 early, but Valparaiso closed within 40-33 at halftime, then opened the second half on a 20-5 run, capped by two Broekhoff free throws, to lead 53-45 with 9:03 left. Eargle scored his 1,000th and 1,001st point at the 8:52 mark of the second half to get the Penguins within six, 53-47.
The Penguins couldn't get any closer the rest of the way.
Broekhoff had 21 points and 10 rebounds for the Crusaders (23-7, 12-3), and Van Wijk added 15 points and 14 boards. Valparaiso stayed a game ahead of Detroit, which beat Loyola of Chicago. Both teams play their last regular-season conference game Saturday: Valparaiso at Green Bay, Detroit at Illinois-Chicago.
Blake Allen led the Penguins (16-13, 7-8) with 22 points, and D.J. Cole had 15.
The Penguins shot a blistering 58.6 percent in the first half and their stingy defense forced six Crusaders turnovers that led to 10 points.
The Penguins close out the regular season against Wright State, at 2 p.m. on Saturday in Dayton.