Salem Historical Society plans for 2013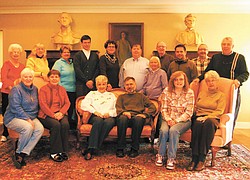 Photo
Trustees and officers of Salem Historical Society who recently met to make plans for 2013 are, seated from left, Carolyn Alesi, trustee; Dixie Gordon, corresponding secretary; Judi Allio, vice president; David Shivers, president; April Trenkelbach, treasurer; and Janice Lesher, curator. Standing are Joan Lora and Alice Deatherage, trustees; Judy White, secretary; Thaddeus Smith, trustee; Michele Weaver, consultant; Steve Faber and Nancy Fediaczko, trustees; David Stratton, director; Keith Schafer, assistant treasurer; and Bill Ward and Jerry Laska, trustees. Missing is B.J. Abrams, trustee.
SALEM
Trustees and officers of the Salem Historical Society recently met to review the past year and plan for 2013.
The past year was highlighted by the dedication of the Dale Shaffer Research Library in August with more than 400 in attendance. They viewed the new building, which makes four for the society.
Membership goal was 65 for the 65th anniversary of the society and it was exceeded by accepting 86 new members. Current membership is 648 annual members and 99 life members.
Plans for 2013 include a book sale in February, the 41st Founders Day Dinner in April, burial of a time capsule at Shaffer Library in May, transforming the old meeting room into a music and athletic exhibit area, and opening the museum for its 43rd season in May.
Other events will be announced when finalized. For information call the society at 330-337-8514.