Local options exist for people who want to buy produce that is free of chemicals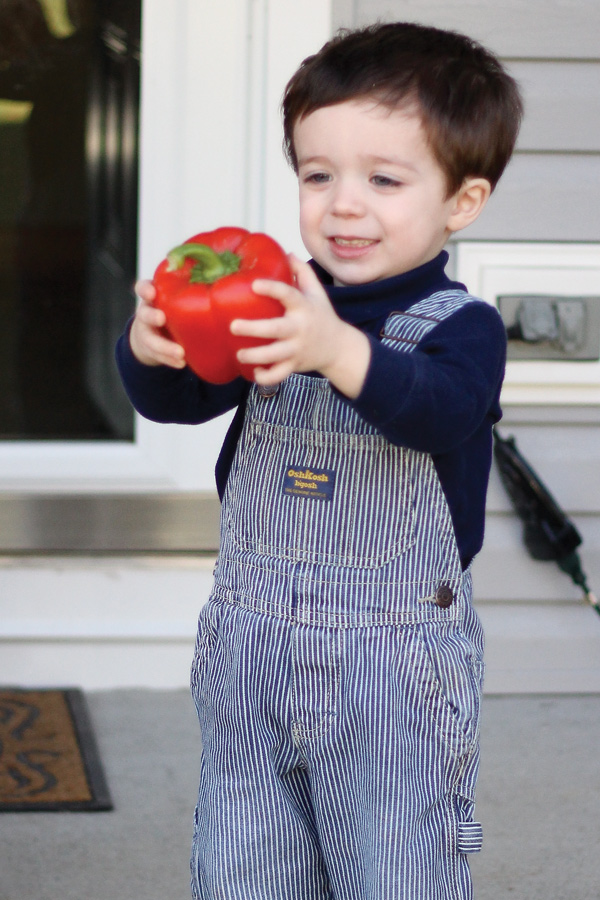 ---

Photo
Wesley beams as he examines a red bell pepper he pulled out of the box.
Local options exist for people who want to buy produce that is free of chemicals
WASHINGTONVILLE
Many people don't think long and hard about where food comes from. Tracing it beyond the grocery store might paint a picture that starts with seeds and farms, maybe a stop at a processing plant or warehouse and end with a long and winding journey to the table.
For those who do think about it, common fears include how food is grown, whether it's been genetically modified, sprayed with dangerous chemicals or transported from a faraway land.
There are local options for those who want "cleaner" food. Organizations including Grow Youngstown and Goodness Grows promote local and organic produce through programs that help feed people.
The newest option is biweekly home delivery of organic produce and pantry staples. Frank and Jenna Greiner own New Again Farm on state Route 14 in Washingtonville. They had been providing produce boxes weekly to customers who ordered online and picked them up from designated spots in the area.
Home delivery, an option typically available in bigger cities, seemed a better choice for the Greiners and their customers.
Charlann Glenn of Canfield said her family moved toward "clean" food about a year ago when her husband, John, had some health issues, which have since resolved. She said they want to be good examples of health for their kids, Chloe, 7; Ella, 5; and Wesley, 2.
"Organic is important to our family," Charlann said, adding they appreciate food that isn't genetically tampered with or grown with toxins. "Lots of chemicals on produce can't be washed off."
The topic of organically grown food is often the subject of debate. There are those — including the Greiners — who believe it offers superior nutritional benefits over conventionally grown produce and that pesticides and genetically modified foods are dangerous.
Others believe organic is nothing more than marketing hype that's not worth the added expense.
Alice Varon, executive director of Certified Naturally Grown, is not one of those people. The nonprofit organization provides a grass-roots alternative to organic certification for growers, which is harder and more expensive to secure.
"There is enormous benefit to eating organically produced food," Varon said, adding studies that show otherwise are misleading because they often don't address the harm caused by eating synthetic chemicals.
Frank Greiner said some of the produce for the boxes is grown on 2 acres of his land, which is designated a natural farm by CNG.
Natural growing doesn't rely on the use of petrochemicals, synthetic poisons and genetically modified seeds, he said.
"Our customers seek out clean food," he said, explaining he and his wife pursued certification because it's not enough to say they grow organically. "We want to create a level of trust with our customers."
Varon praised the Greiners' efforts, saying it's exciting to see more farms come up with unique approaches to providing quality food for customers.
The local movement toward clean food is picking up momentum, Frank Greiner said, explaining that many people prefer to support local, for-profit growers.
The Greiners provide produce and pantry items for 25 customers but have the ability to double that. Frank has another job as a video producer but said he would like to hire another driver as delivery expands.
His current route includes Canfield, Boardman, Poland, Austintown, Struthers, Salem, Leetonia and Columbiana. Expansion farther north may be added as business grows, he said.
Foods that don't grow around here, such as citrus, are trucked in, and during the local growing season, Frank supplements the box with produce from his farm.
"We saw excellent yields last season and heard from many satisfied customers," he said, adding he plans to expand this year's planting of garlic, beets, green onions, potatoes, kale, Swiss chard, carrots, cucumbers, peppers, tomatoes, squash, parsley, herbs and flowers.
The box offers a few dollars' savings over grocery store prices, Frank said. The cost for a standard box is $30 plus a small delivery charge. Options are available to add on fruits, vegetables and other items, and delivery is free with an order of $50 or more.
For information, visit www.newagainfarm.com or call 330-817-0117.