Trumbull exhibit captures local photographers' talent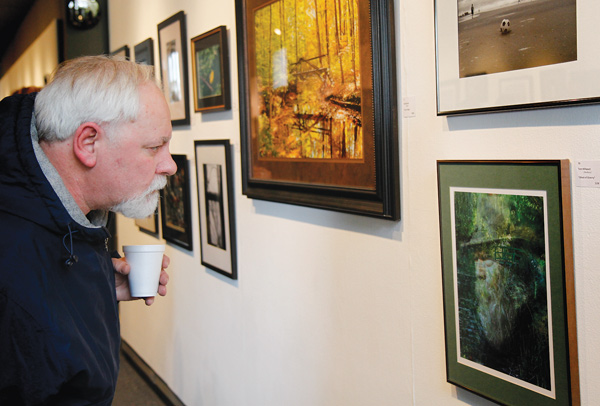 ---

Photo
David Richards of Warren looks at photographs in the "Photo 2013" exhibit at the Trumbull Art Gallery in Warren.
By Jordan Cohen
WARREN
The photographs are attention-getting and haunting. A seemingly endless group of sand dunes captures the eye in one, while reflections of the New York City skyline appear as ghostly images on the windows of a restaurant in another.
Those two are among the 83 photos selected for "Photo 2013," the fourth annual Trumbull Art Gallery Juried Photography Exhibition, which had its grand opening Sunday. The 83 were selected from 149 entries.
"This is our best show because we've never had that many juried for display here," said Karen Fry, the show's curator. The previous high number was 81 in 2011, with only 63 selected for last year's competition.
Making those selections was a jury of one: Richard Mitchell, professor emeritus of photography of Youngstown State University. Mitchell praised the 56 artists who submitted their photos "not only for their craftsmanship and individual vision, but also for maintaining a dedication and balance to an art form that is at the time on uncertain ground."
The subject matter of the photos is eclectic. A dilapidated old churchyard photographed by Sergey Granik of Canfield contrasts with a colorful "Mt. Rainier Moonrise" photographed by Richard States of Cortland. Its full moon, mountains and night sky are reminiscent of Ansel Adams' classic black and white photograph of a moonrise in New Mexico in 1941.
Of the 66 that were not selected to appear in the art gallery, 52 are on display at the Nissen Gallery at Trumbull Memorial Hospital.
The artists competed for $800 in prize money.
"We were able to raise the funds through memorial donations for loved ones," Fry said. "It's the largest prize pool in the history of the show."
The winner of Best of Show selected by Mitchell is "Great Sand Dunes," photographed by Walt Unks of Warren. He earned the top prize of $200.
The show runs through April 6. Nearly all of the photos are available for sale.