Mahoning Landfill gas generates electricity, rather than being wasted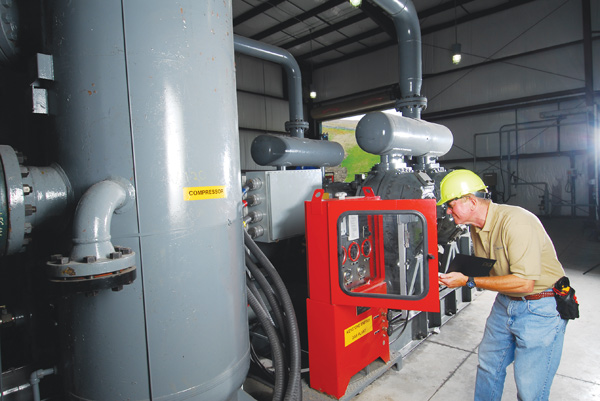 ---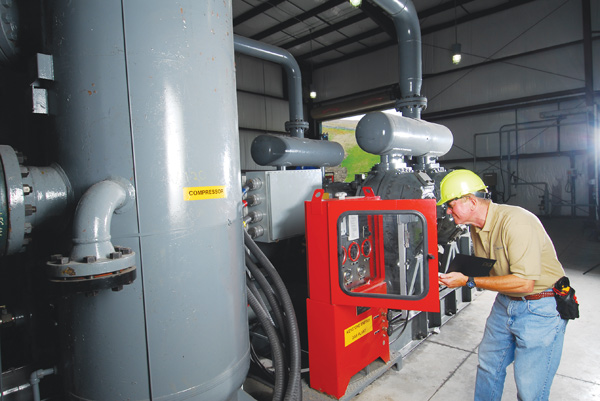 Photo
A Waste Management technician works inside a plant that converts landfill gas to energy. Rather than wasting the gas by burning it on a flare, the Mahoning Landfill is piping it to a five-engine power plant that produces enough electricity to serve more than 3,500 homes in Oberlin.
NEW SPRINGFIELD
The Mahoning Landfill is now producing a new product — 4.8 megawatts of electricity that is being sold to the city of Oberlin.
The newly built electric generating plant at the landfill is fueled by methane gas, which is produced by the decomposition of the garbage buried in the landfill.
Rather than wasting the gas by burning it on a flare, the landfill is piping the gas to a five-engine power plant that produces enough electricity to serve more than 3,500 homes.
"Instead of the methane being flared at the landfill, it's now essentially being used for a beneficial reuse," said Beth Schmucker, Ohio community relations manager for Waste Management, which operates the landfill.
"This also means less reliance on coal, and also, as we know, there's a great deal of focus in our country on sustainable, renewable energy sources, and methane is one of those," she added.
The plant at the Waste Management landfill at 3510 E. Garfield Road in Springfield Township is one of more than 130 such facilities in North America where the company converts landfill gas to energy.
A similar plant will be completed this spring at WM's Geneva, Ohio, landfill, and it, too, will supply electricity to Oberlin, said Todd Brady, WM's gas operations manager.
From its American landfill in Waynesburg, near Canton, Waste Management also recovers methane, but sells it to Dominion East Ohio, which pipes it to consumers in Pasadena, Calif., Brady said.
Through its waste-based energy efforts, WM now creates enough energy nationally to power 1.1 million homes, and hopes to reach the 2 million mark by 2020, Schmucker said.
"As part of that, there was a great deal of focus put on gas-to-electric plants being developed within Waste Management throughout the United States," she said.
Waste Management's Mahoning Landfill isn't the only local landfill where methane is being captured to produce much-needed electricity.
Republic Services' Carbon-Limestone Landfill in Poland Township has an 18-engine methane-to-electricity plant, which has been operating since 2000. It supplies power to AMP Ohio, which serves many local member municipalities, including Hubbard, Niles, Newton Falls and Columbiana.
"It generates enough electricity for 18,000 homes a day," Mike Heher, division manager at Carbon-Limestone, said of the plant at the landfill.
The Mahoning and the Carbon-Limestone landfills are Mahoning County's only active landfills.
Managements at WM and Republic plan to be in the landfill electric-generating business here for the long term, as both have applied to the Ohio Environmental Protection Agency for landfill-expansion permits in the county. Republic's expansion permit was granted this month.
At the current rate of dumping and at its currently authorized size, the Mahoning Landfill could continue to accept waste for seven or eight more years, said Jerry Ross, WM's senior district manager, but it has applied for an expansion that would extend its life for 40 additional years.
Carbon-Limestone received a permit for an expansion that would double its capacity and extend its waste-accepting life from 30 more years to 80 more years, Heher said.
WM is making a substantial investment in gas-to-electric plants, with each engine costing $250,000, Brady said.
"Certainly, the intention is to make it a profitable business venture, but there is a lot of capital cost up front," Brady said. "It's a renewable energy that many communities and the utilities are interested in."
Oberlin put out bids for renewable energy to diversify its power portfolio, and WM was fortunate to be able to respond to that need, Brady explained.
WM plans an open house at its Mahoning Landfill electric-generating plant this spring or summer, Schmucker said.
Most of the waste deposited in the Springfield Township landfill originates in Mahoning or neighboring counties, she added.