Friends of Scouting to host fundraiser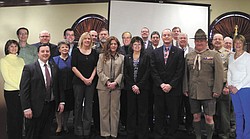 Photo
SPECIAL TO THE VINDICATOR Whispering Pines Greater Western Reserve Council Boy Scouts of America is making plans for its eighth annual breakfast fundraiser March 12. The fundraising steering committee members are, from left, Shar and Rory Phelan, Jason Wolf, Joe Buchanan, Elinor Zedaker, Patrick McFall, Jennifer Hunt, Joe Verostko, David Deibel, Holly Baker, George and Beth Basista, Benjamin Kyle, Atty. Jerry Bryan, Mark Luke, Brad Henderson, Bob Zedaker, Bill Moss, Mike Kupec, George Grim and Gwen Smith Darnell.
Staff report
BOARDMAN
Whispering Pines District Greater Western Reserve Council Boy Scouts of America will host its "Celebration of Scouting" breakfast fundraiser March 12 at Mr. Anthony's Banquet Center, 7440 South Ave.
Breakfast will begin at 7:15 a.m., and reservations are required by calling Patrick McFall at 330-898-8474 or emailing patrick.mcfall@scouting.org.
This year's theme is "Scouting: Prepared for Life," which celebrates Scouting's local impact and recognizes examples in this community of the national theme.
This year's chairman and master of ceremonies is Mark Luke.
Guest speakers will include Marcus Masello, who recently achieved Eagle Scout; Perry Chickonoski, Eagle Scout; and Jason Wolfe, the area's Scout executive, who will give the State of Scouting Report.
Committed sponsors for 2013 are: gold sponsors Compco Industries and Farmers National Bank and silver sponsors Akron Children's Hospital, Boardman Kiwanis and Boardman Rotary.
Members of the event steering committee are: Mark Luke, chairman; Patrick McFall, district executive; Jason Wolf, Greater Western Reserve Council Scout executive; and Holly Baker, George and Beth Basista, Atty. Jerry Bryan, Joe Buchanan, David Deibel, George Grim, Brad Henderson, Jennifer Hunt, Mike Kupec, Benjamin Kyle, Bill Moss, Rory and Shar Phelan, Gwen Smith-Darnell, Joe Verostko, and Robert and Elinor Zedaker.
For more than 100 years, Scouting has strived to develop leadership, character, citizenship and life-saving skills while enjoying camping, hiking, rock climbing and more.
Anyone interested in making an investment in Scouting who cannot attend, donations can be made online at www.bsa-gwrc.org or by sending a check to Boy Scouts of America, 4930 Enterprise Blvd. NW, Warren, OH 44481.