Talented father and daughter enjoy ... Sharing a passion for art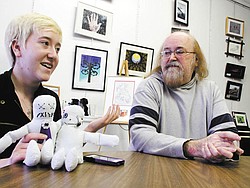 Photo
Jeff Vargo and his 16-year-old daughter, Gabrielle, are both artists who have won numerous awards at local and regional art shows, often competing in the same event. Photo by: William D. Lewis | The Vindicator
By Sean Barron
STRUTHERS
It's probably safe to say that Jeff Vargo's interests and careers — which include having played guitar and saxophone in a punk-rock band, having worked as an oil-field technician and having created award-winning hand-engraved glass etchings — are as diverse as his artwork.
"I've always kind of dabbled but had other real jobs," the 53-year-old Campbell man said with laughter.
Nevertheless, art is no laughing matter for Vargo, who owns Gabrielle's Glass Engraving, a business he named after his 16-year-old daughter, Gabrielle Vargo, a Poland Seminary High School sophomore who's also an artist.
During the past few years, the two have won numerous awards at local and regional art shows, often competing in the same event.
Gabrielle and her father spoke recently at The Metamorphosis Art Cooperative, a gallery at 2 State St., where they and other local member artists display their works.
One of Vargo's specialties is using rotary and pneumatic tools at varying speeds to create glass-etch renderings.
In addition, he has received accolades and awards for his paintings, jewelry and crafts.
As with most artists, it's shortsighted to categorize Vargo's and his daughter's works.
That's, in part, because their interests spill over into photography, music and Japanese animation, the latter of which is behind Vargo's running the Teen Anime Club at the Davis Branch of the YMCA in Boardman.
For her part, Gabrielle started her business, Anti-Princess, with the idea of spreading the message that everyone is unique and deserving of love.
To that end, she designs and sells a series of dolls containing anti-bullying messages, one of which says, in part: "The Anti-Princess does not care what others think about her because she has the confidence to be herself."
Gabrielle said her passion for drawing began at a young age, then her love of photography developed after Vargo bought her a camera.
Gabrielle, who also plays bass guitar in her school's jazz band, said she couldn't imagine a world or society devoid of art in its many forms and variations.
"Earth without art is just 'eh.' If we don't have that common connection, it's just boring," said Gabrielle, whose creations have been recognized and have been award recipients at the Canfield Fair, the NEO Student Show, at a gathering in Beaver Falls, Pa., and at a Butler, Pa., gallery.