Miss Mayercak, Mr. Ignaszewski are engaged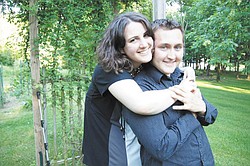 Photo
KELLY A. MAYERCAK AND JEREMIAH W. IGNASZEWSKI
ZANESVILLE, OHIO
Mr. and Mrs. James W. Mayercak of Zanesville, Ohio, formerly of Hermitage, Pa., announce the engagement of their daughter, Kelly Ann Mayercak, and Jeremiah W. Ignaszewski.
Parents of the future groom are Mr. and Mrs. Dale Ignaszewski of Canal Winchester, Ohio.
The couple are planning a wedding for Aug. 18.
The bride-elect is a graduate of Ohio University Zanesville, where she earned a bachelor's degree in psychology. She also received her master's degree in social work from Ohio State University and is a licensed social worker. She is employed by Hands On Central Ohio, Columbus, as is an information and referral specialist/training and support lead.
The prospective groom earned a bachelor's degree from Mount Carmel College of Nursing and is a registered nurse for Echo Manor Nursing & Rehabilitation Center, Pickerington.