Cowboy hats, boots greet Rascal Flatts at Covelli
Rascal Flatts At Covelli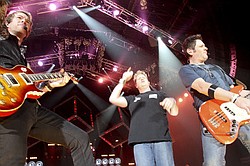 Gallery
Rascal Flatts rocked the house at the Covelli.
By ED RUNYAN
runyan@vindy.com
YOUNGSTOWN
On Friday night, Youngstown was the center of the country-music universe, as people traveled from places such as Canton, Columbus and Meadville, Pa., to see Rascal Flatts — the most awarded country group of the last decade — perform at the Covelli Centre.
The band played more than 90 minutes, exciting the crowd with "My Wish," and later brought former Youngstown State and Ohio State football coach Jim Tressel on stage.
During the final encore, Rascal Flatts and the two other acts, The Band Perry and Kristen Kelly, performed "We're An American Band" by Grand Funk Railroad.
"I liked it a lot," Rachel Fridley of Niles said of the show. "I don't think Gary LeVox [the band's lead singer] hit a wrong note the whole night," she said.
The arena was packed full of fans wearing cowboy hats and boots who greeted the band with enthusiasm.
Adding to the thrill of the sold-out show was the performance by The Band Perry, whose song "Better Dig Two," has been the No. 1 country single the last two weeks.
Youngstown may not be known as a country-music stronghold, but with shows featuring Tim McGraw, Sugarland and Miranda Lambert under its belt, it's on its way.
"We love Rascal Flatts," said Joyce Fusco of Canfield, who went to the show with her husband, Joe, and 12 other family members and friends.
"If it's popular country, you can count us in," she said as they walked along Boardman Street on their way to the show.
So far at the Covelli, she and her concert party have seen Sugarland, Eric Church, McGraw and Lambert.
Joyce's friend Mary Beth Sammartino and Mary Beth's husband, Larry, came from Columbus to attend the show.
"When there's a main event, we always plan something," Mary Beth said of Joyce and herself.
Over at Dooney's Downtown Bar (formerly Buffalo Wild Wings), Theresa Lanson, 27, and her sister, Tina McCartney, came with four other girls from Canton to attend the show.
"We usually go to Cleveland, but [Rascal Flatts] weren't going to Cleveland, so we came here," Lanson said.
"This is our first time in Youngstown," she said, adding that they don't know anyone here.
When asked whether their friends had any reaction when she told them she was coming to see a show in Youngstown, McCartney said, "I posted on Facebook, and I got 10 likes," she said, interpreting that to mean that her friends were excited she was coming to see Rascal Flatts.
As for Youngstown, Lanson said, "If you have more concerts here, we'll come."
The girls, who both wore cowboy hats while they ate a pre-concert meal, said they grew up country music fans, and Rascal Flatts is among their favorites.
Their song "My Wish" means so much to them that Lanson dedicated the song her sister last year at McCartney's wedding, she said.
"My wish for you is that this life becomes all you want it to, your dreams stay big, your worries stay small" are among the lyrics.
At a table in Cafe Cimmento, sisters Lindsey Schiffhauer, 27, of Girard and Leeann Burns, 30, of Niles, along with their husbands, Chuck and Mike, were about to enjoy the show as a birthday gift to Lindsey from Leanne and Mike.
"Mike even grew his mustache out just for this," joked Lindsey of her brother-in-law, who like her husband was dressed in a plaid shirt to fit in with the country theme.
Mike conceded that he had grown the mustache recently, but not for the concert, and always liked classic rock a lot more than country music.
"Oh yeah, I love the flannels," Chuck said with laugh, adding that he too has come to enjoy country music in recent years because of his wife.
"This is probably our eighth Rascal Flatts concert," Lindsey said.
Leeann said she likes many of the group's earlier songs, like "Bless the Broken Road," which it played in 2005 on "American Idol" with then-contestant Carrie Underwood. "They're more upbeat."
The other thing she likes is the voice of lead singer Gary LeVox, a Columbus native.
Kayte Fry, 25, of Greenville, Pa., who came to the show with five of her friends, all from the Greenville-Sharon-Mercer area, had an opinion on why it appears country music is more popular with women than men in the area.
"Country music has meaning. You can relate to it more," she said.
"I'm not afraid to cry every once in a while," say the lyrics to one of the band's most popular songs, "What Hurts the Most," released in 2006.
"Even though going on with you gone still upsets me, there are days every now and again I pretend I'm OK, but that's not what gets me.
"What hurts the most was being so close and having so much to say and watching you walk away."
Patrick Gorman and his wife, Meredith, of Columbiana said they've seen about 20 shows at the Covelli Centre since it opened, including John Mellencamp, Kelly Clarkson, Meatloaf, Stevie Nicks and Motley Crue, "any genre pretty much as long as we've heard of them," Meredith said.
"It beats going to Cleveland or Pittsburgh, Patrick said.
"I just hope it keeps going, what they've been doing with downtown," he added.