Venerose gets probation, makes restitution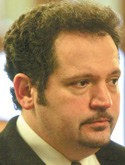 ---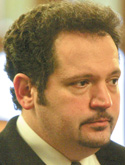 Photo
YOUNGSTOWN
A judge sentenced David J. Venerose Jr., 42, of Sheridan Road, to one year of probation for passing bad rent checks for his former Boardman bar and lying under oath about an elderly woman he was caring for, who has since died.
Judge Lou A. D'Apolito of Mahoning County Common Pleas Court imposed the sentence on the felony charges Thursday.
The bad-checks charge pertains to $8,600 in rent payments to the landlord for the Iron Shamrock bar, 8414 Market St.
The perjury charge pertains to a lie Venerose told in a probate court guardianship hearing about Geraldine Burke and how her money was spent. He pleaded guilty to the charges in January.
The prosecutor's office recommended probation for Venerose if he made $10,750 in restitution to Burke's estate at sentencing and thereafter remains current on payments toward $67,560 in legal fees and restitution he was ordered by the probate court to make to the estate.
Through his lawyer, J. Gerald Ingram, Venerose delivered the $10,750 in restitution at the hearing.
Jeffrey Davis, an assistant county prosecutor, asked the judge to consider a longer period of probation.
Judge D'Apolito said, however, he considered that, but concluded he has "plenty of resources available over the next year" if he needs to take further action in the case.
The judge warned Venerose that, if he violates probation conditions, the duration of the probation could be extended to up to five years or he could be sent to jail or prison.
Venerose apologized for his conduct and said he was "embarrassed by the whole situation."
The prosecution left the matter of rent restitution to the landlord to be handled in civil proceedings.