Holy Trinity burglary leads to invitation from church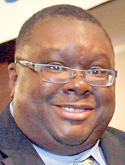 ---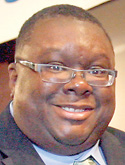 Photo
The Rev. Lewis Macklin, Holy Trinity Missionary Baptist Church
YOUNGSTOWN
The pastor and congregation of a South Side church recently burglarized are asking the perpetrators to come forward, not for punishment, but for prayer and fellowship.
According to a police report, someone forced open a rear door at Holy Trinity Missionary Baptist Church on Parkcliffe Avenue earlier this week. Once inside, the intruders ransacked several offices before running off with a television and other valuables.
The Rev. Lewis Macklin, pastor, was riding past the building when he noticed the rear door open. He stopped to check on the building and realized a front door also was open.
Police said the thieves entered through the rear and left out the front door carrying the stolen goods.
The Rev. Mr. Macklin said the break-in will cost the church several thousand dollars in replacement and repair costs, but in this particular case he is not looking for reimbursement. He said the church would just like the opportunity to share the gospel of Jesus Christ with the thieves.
Mr. Macklin said there is an open invitation for the perpetrators to come to the church and meet with him.
"We want to witness to them. They are broken," he said. "We have all sinned, and no sin is greater than another."
The pastor said he certainly is not giving an open invitation for thieves to take from the church, but said he feels compelled to offer a hand and prayer in this particular situation.
"The reason we are here is to mentor the very folks who did this," he said. "We don't welcome it, but we understand part of our responsibility is to take a situation like this and see where God can be an influence."
Besides the television, other valuables such as a radio, stereo and VCR were taken. The thieves also damaged several doors getting into the offices.