Poland sends four to district wrestling tournament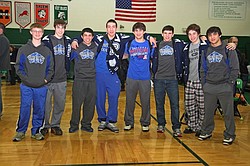 Photo
Eight Poland wrestlers placed at the Division II sectional tournament. They are, from left, Dante Ginnetti, Bruce Spottleson, Tad Duran, Abe Kassem, Mike Audi, Anthiny Mancini, John Berndt and Anthony Audi.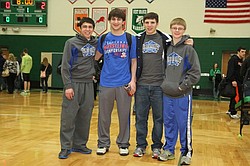 Photo
Poland's district tournament qualifiers are Tad Duran, Mike Audi, Anthony Mancini and Dante Ginnetti.
The Poland wrestling team placed eight at last weekend's Division II sectional tournament, including four who advanced to this weekend's district tournament.
The top four in each weight class moved on to districts with an opportunity to earn a berth in the state tournament in Columbus Feb. 28 through March 2.
Leading Poland at sectionals was Anthony Mancini, who finished second in the 145-pound bracket. Dante Ginnetti (106 pounds) Mike Audi (170) and Tad Duran (126) each won their consolation brackets to take third and move on to districts this weekend in Alliance.
Poland had four wrestlers place among the top six and make the podium. Abe Kassem finished fifth at 195 pounds and will be a district alternate. Bruno Spottleson (132), John Berndt (152) and Anthony Audi (160) each finished sixth in their weight classes.
The Division II district tournament is this weekend in Alliance. The top four in each class will advance to the state tournament.