Pee Wee Phantoms inch toward playoff berth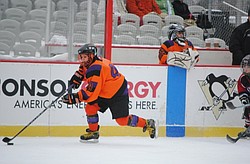 Photo
Tallon Price finds open ice down the side of the boards.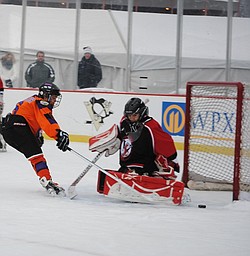 Photo
Devin Whitaker (Boardman) takes a shot on goal during last weekend's game.
The Youngstown Phantoms Pee Wee AA team resumed league play last weekend and made a final rush for a playoff spot.
On Saturday, the Phantoms hosted the No. 1 team in the league — the North Pittsburgh Wildcats. North Pitt is currently undefeated in league play and is ranked No. 26 in the country.
The Phantoms fell behind 1-0 at the 8:45 mark of the first period. Youngstown's defense was strong, only allowing seven shots in the period, but the Wildcat defense was stronger, allowing only two shots in the period.
North Pitt scored early in the second period to take a 2-0 lead. At the 4:37 mark of the period, Youngstown cut the lead in half on a score by Maguire Franko (Poland). He was assisted by Justin Beachler.
In the third period, the Phantoms put themselves in poor situations by racking up 28 minutes in penalties. The Wildcats took advantage of the opportunity and added two more goals. Franko got the last goal at 1:57 left in the game.
Goalie Nick Beck (Boardman) faced 27 shots. Youngstown could only generate seven.
On Sunday, the Phantoms hosted Allegheny, as the game ended in a 1-1 tie.
Youngstown scored at 5:26 of the first period. RJ Pozzuto recorded the goal, assisted by Justin Beachler and Mike Fetsko (Boardman). Youngstown had only two penalties the entire game, but Allegheny took advantage of the first one and tied the game 1-1 at 8:40 of the second period.
Both goalies played strong games. The Phantoms' Colin Frost (Boardman) faced 23 shots, while the Allegheny goalie faced 24 shots.
The Phantoms fell to seventh place in the PAHL with one game remaining. A win tomorrow at South Hills will move Youngstown into fifth place and a tie will give them the final playoff spot at sixth place.