Youngstown superintendent is finalist for another job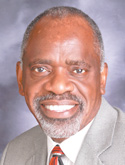 Photo
RELATED: More changes coming to Youngstown schools
By Denise Dick
Youngstown
The city schools superintendent is one of four finalists for the top job in the Little Rock, Ark., school district.
Connie Hathorn was hired in October 2010 as a deputy superintendent to take over the helm in January 2011 when former Superintendent Wendy Webb retired. His contract was for three years.
"My contract expires Dec. 31," Hathorn said Thursday. "I'm looking at my options."
Little Rock's enrollment is about 25,000. Youngstown's is about 5,600.
Hathorn, a native of Mississippi, earned his bachelor's degree at the University of Arkansas-Pine Bluff and his master's degree from the University of Arkansas.
He served in a series of administrative jobs in the Akron City School District, with an enrollment of 24,000, for 19 years before coming to the city.
Richard Atkinson, school board president, said there have been informal board discussions about Hathorn's contract, but nothing has been decided. Two special meetings are set for next week where board members will talk about an annual evaluation of the superintendent.
"We've got to do the evaluation first," he said.
In Hathorn's 2012 evaluation, he earned a 7 out of a possible 9.
The evaluation covered six categories: his relationships with the board, community relationships, staff and personnel relationships, educational leadership, business and finance, and personal qualities.
At that time, board members scored Hathorn a 7 in all but personal qualities, in which he rated an 8.
"Speaking just for myself, nothing has changed," Atkinson said regarding how he would evaluate Hathorn.
He declined to say how he would vote in a decision on whether to renew Hathorn's contract. He said he didn't want it to be perceived that he's trying to influence other board members.
Adrienne O'Neill, chairwoman of the Academic Distress Commission, the state-appointed panel designated to help the district improve students' academic performance, declined to comment about Hathorn's exploring other job prospects.
"That's the business of the [school] board," she said.
More like this from vindy.com