People Fighting Famine promotes education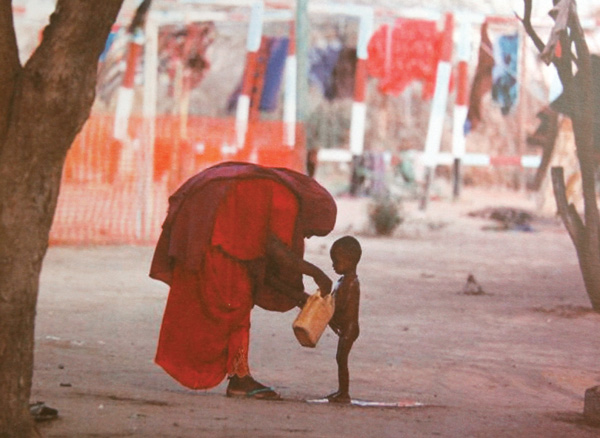 ---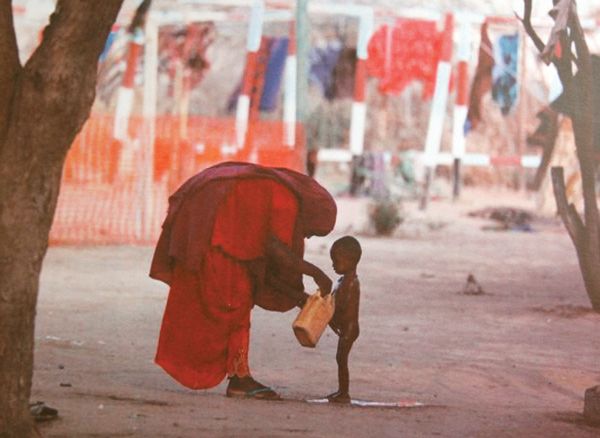 Photo
This photo is in a display set up by People Fighting Famine depicting a refugee camp in Africa, where millions fled to find relief from a drought. The grass-roots group is sponsoring prayer and vigils on Federal Street downtown and presentations at First Unitarian Universalist Church on Elm Street on Youngstown's North Side today and Saturday.
By LINDA M. LINONIS
Youngstown
Members of People Fighting Famine believe education and awareness will work together to end hunger issues worldwide.
And here's how: They say knowledge of the 17,000 children worldwide who die of starvation and malnutrition every day will motivate Americans to sign petitions that go to legislators who vote on foreign-aid appropriations.
People Fighting Famine is seeking to teach Valley residents about the global hunger crisis through its three-day prayer and vigil at Federal Street downtown and through presentations at First Unitarian Universalist Church, 1105 Elm St.
The event began Thursday and continues through Saturday.
Dan Eicher, a Valley businessman, and Terry Vicars, who works for Catholic Charities in case management for the homeless, are two of the founding members of the grass-roots group.
"Understanding that there is enough food produced on this planet to feed everyone, we believe humanity must do whatever it takes to end this crisis," Eicher said.
Vicars said, "Our three-day vigil is intended to raise awareness and educate regarding this nightmare that has been accepted as commonplace but needs to be regarded for what it is — a catastrophe and moral scandal of epic proportions."
Among speakers who are addressing hunger, its causes and solutions was Brandon Kovach, a junior at the University of Akron. He is a congressional district leader for ONE in the area represented by U.S. Rep. Tim Ryan of Niles, D-13th, who is on the House Appropriations Committtee.
ONE (www.one.org) is a global advocacy organization founded by the singer Bono and other activists. ONE, described in organization literature, "fights extreme poverty, hunger and preventable diseases by raising public awareness and pressing political leaders to support smart, effective policies and programs."
For example, its advocacy efforts have resulted in "more than 5 million Africans having access to life-saving AIDS medication."
Kovach said the U.S. budget (in the trillions) "gives one-sixth of 1 percent in foreign aid. "In perspective, it would take $311 billion to eradicate world poverty," he said.
Kovach showed a ONE video that showcased an African mother of five and grandmother of four who was taught how to plant, harvest and sell sweet potatoes and is sharing her knowledge.
The crop, which she is sustaining, enabled her to build a home, raise her standard of living and send the children to school. And it began with a 50-cent package of seeds.
"Fixing one problem helped work out other issues," Kovach said.
Currently, about 1.3 billion people worldwide live in extreme poverty on $1.25 a day, Kovach said. But, globally, ONE reports in the last two decades extreme poverty and child deaths have been halved.
Eicher said the world responds to a drought-caused famine with supplies, but then the minute it is declared over, aid and publicity cease. "When the drought ends, the refugees have even less than when they started," he said. "They've lost their land and family members."
Eicher said the rest of the world doesn't do enough to break the cycle of drought, famine and death. "We have to reach beyond the moment," he said.
People Fighting Famine sponsored A Rally for East Africa in 2011.