Champion bounces Newton Falls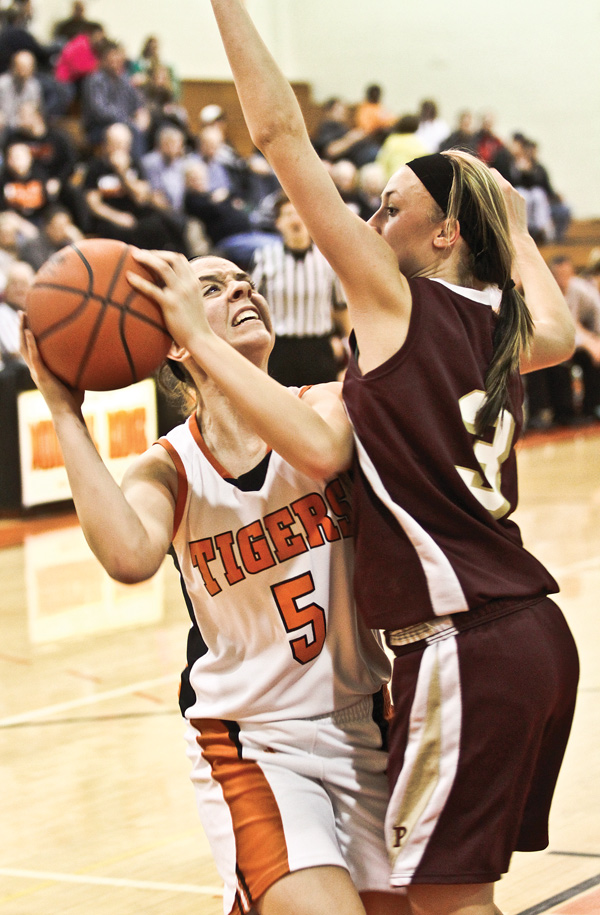 ---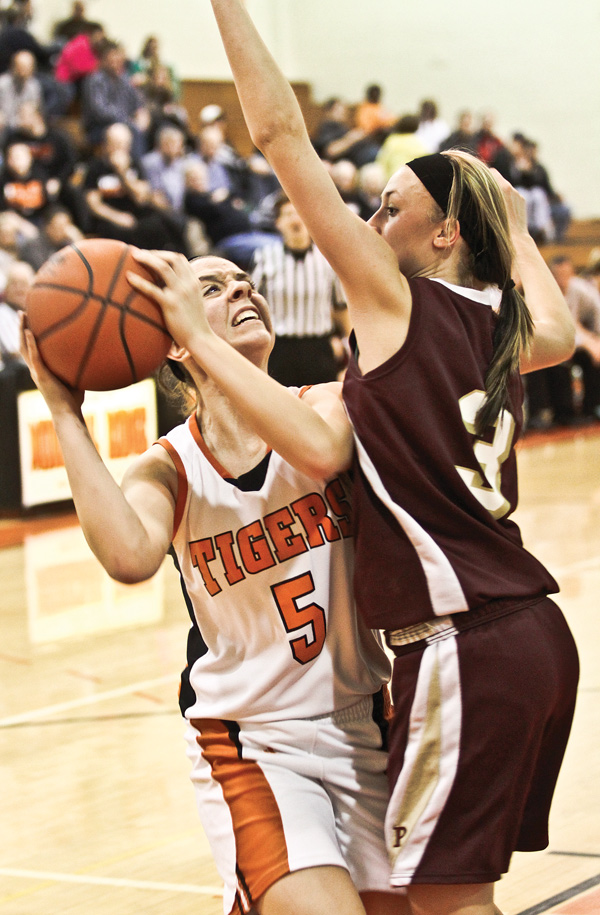 Photo
Springfield's Baylee Felger (5) is unable to shoot past Pymantuning Valley's Kelsea Brown (3) during their Division III sectional final Thursday at Mineral Ridge High School. The Tigers fell to the Lakers, 68-42.
By Brandon Judeh
MINERAL RIDGE
Despite shooting a cringe-worthy 22.5 percent from the field, the Champion High girls basketball team managed to oust Newton Falls, 43-40, in Thursday's Division III tournament at Mineral Ridge High.
The Tigers (19-4) didn't fare much better, shooting 29 percent.
The Lady Flashes (15-9) countered their poor shooting with a solid effort from the free-throw line, sinking 22 of 33 attempts.
"It feels amazing to beat Newton Falls twice this year, first to beat them and help cause them to not win the division and now to knock them out of the playoffs," Champion senior Mackenzie Kiser said.
In the other game, Pymatuning Valley defeated Springfield, 68–42.
It was Kiser and teammate Gabby Lamont who carried Champion, with the two combining for 33 out of the Flashes' 43 points. Lamont led with 17 points and Kiser netted 16.
With Newton Falls up by six at the half, Champion started the third quarter on a 10-0 run.
Champion's third-quarter defensive effort was potent — the Golden Flashes committed no fouls and held the sharp-shooting Tigers to two points.
"Cold shooting and foul trouble really hurt us," Tigers head coach Mark Baker said. "We had to sit some kids early due to the foul trouble and that really hurt our rhythm early."
Destinee Hutson led for the Tigers with 11 points.
Newton Falls made a strong comeback late in the fourth, but the Golden Flashes' free-throw shooting carried them to the victory.
Champion next will play Pymatuning Valley, who cruised after making eight first-quarter steals and building an 18-2 lead. The Lakers finished with 14 steals.
"Anytime you turn the ball over you don't give yourself a chance to score," Springfield head coach Jim Schuler said. "Coming into the game, I thought that defensively if we could get them into a half-court game and make them shoot from the outside we would have a chance."
Springfield (7-14) got back on track in the second quarter, at one point narrowing the Lakers' lead to six thanks to Baylee Felger hitting five out of seven free-throw attempts.
"Going into the second quarter, I told our girls that it wasn't like we had never been in this situation before, where we kind of wait to come out and give them a lead and then come out and play in the second quarter," Schuler said.
The Lakers, however, maintained a double-digit lead of 11 at halftime.
The second half was all Pymatuning Valley as the Lakers outscored the Tigers 34-19, shooting 55.1 percent from the field.
Kelsea Brown scored 22 points and made eight rebounds. Megan Stech and Geena Gabriel both chipped in with 16 points while Heather Brant made five assists.
For Springfield, Callie Ford scored 16 and Kennedy Richey 13.