Canfield swimmers qualify for state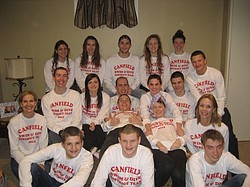 Photo
Neighbors | Submitted .The Canfield High School swimming and diving team competed at Northeast Ohio Districts on Feb. 14 and 16 at Cleveland State. The team includes ( front row, left to right) Jared Rothbauer, Connor Brady, Mike DiDomenico (second row, left to right) head coach Andrea Linnelli, Mike Cardone, Sarah Heaven, assistant coach Jane Heaven (third row, left to right) Drew Bennett, Olivia Williamson, Adam Weiss, Jamie Wellham, Kyle Anderson, Alec Gaetano(fouth row, left to right) Briana O'Malley, Theresa Mikolay, Daniel Bogen, Maggie Beistel and Mallory Allen.
The Canfield boys and girls swim team competed in the Northeast Ohio Districts on Feb. 14 and 16 at Cleveland State with three members of the boys squad qualifying for the state meet in individual competitions.
In Division II, Canfield's 200 free and 400 free relays are both seeded in the top four. The 200 free relay enters with a time of 1:28.34 — just two-tenths of a second slower than top-seeded University School.
The Cardinals' 400 free relay is fourth at 3:14.05. Top-seeded Dayton Oakwood enters with a time of 3:10.58.
Daniel Bogen, Mike Cardone, Connor Brady and Nick Montalto are the members of both relays.
Three Cardinals qualified in individual events. Montalto is seeded 14th in the 50 free and ninth in the 100 free; Bogan is 15th in the 100 free and 19th in the 200 free; and Brady is 12th in both the 100 back and 100 butterfly.
Placing 10th, but not qualifying, in the 200 medley relay was Adam Weiss, Kyle Anderson, Mike DiDomenico and Drew Bennett.
The girls 200-yard medley relay team bettered its school record to 1:52.48. The team, consisting of Sarah Heaven, Theresa Mikolay, Mallory Allen and Olivia Williamson, took 11th place. Placing ninth in the 100-yard fly was Mallory Allen.