Senior Brandi Brown wills Penguins past CSU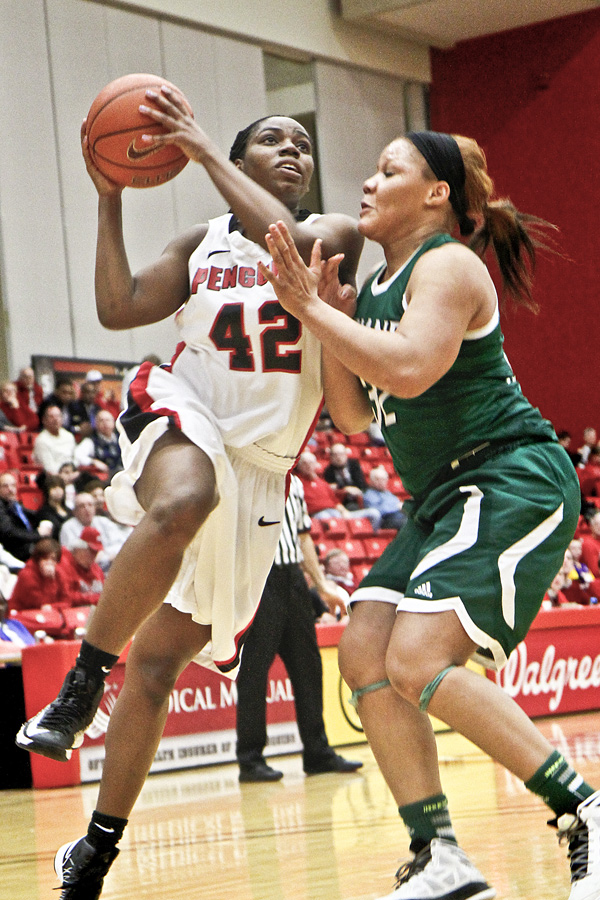 ---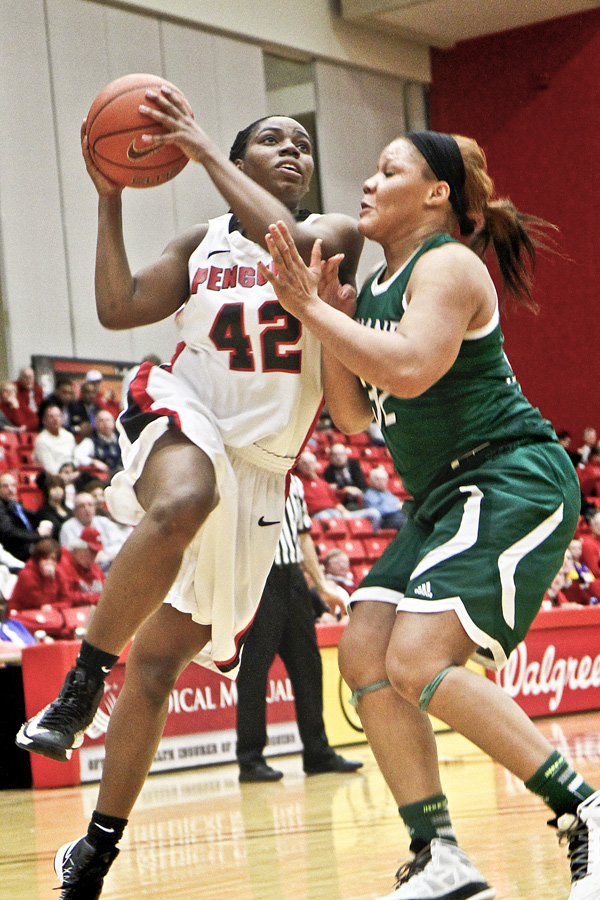 Photo
Youngstown State senior Brandi Brown (42) shoots against Cleveland State defender Nafeshia Holifield (32) during the first half of their game Thursday at YSU's Beeghly Center. Brown scored a season-high 33 points and grabbed 11 rebounds to help lift the Penguins over the Vikings, 73-69.
Senior wills Penguins past CSU
By Joe Scalzo
YOUNGSTOWN
Here's a (partial) list of why the Youngstown State women's basketball team should have lost to Cleveland State on Thursday:
Starting forward Karen Flagg, the team's second-leading rebounder, missed practice all week with an injured finger and played just six minutes.
Backup forward Heidi Schlegel, the team's second-leading scorer, went down early in the second half with what looked to be a serious knee injury.
The Penguins were out-rebounded by 10, committed five more fouls (and shot six fewer free throws), shot worse from the floor, had just six available players by the end of the game and got fewer calls down the stretch than the chess club on a Friday night.
Here's a (complete) list of why it didn't:
Brown, Brandi.
"She was awesome," Penguins coach Bob Boldon said following the 73-69 victory. "Thank goodness for Brandi Brown."
Brown scored a season-high 33 points (two off her career-high) and grabbed 11 rebounds, willing the Penguins (18-6, 8-3) to a victory that gives them a one-game lead over Detroit for second place in the Horizon League standings. The Titans (14-9, 7-4) lost to Loyola on Thursday.
"I just knew I had to be really aggressive," said Brown, who scored 21 in the second half as YSU outscored CSU 45-36. "I'm happy we won but it wasn't pretty. It wasn't anything fancy. We fought it out, we battled and we came up with a win.
"But we know that's not how we play. We had plenty of lapses. We had plenty of times in the first and second half that we weren't playing the way that we know we have to play to win. So I'm really happy that we fought this one out and I think it should be a reminder to all of us that we know how to play and we should be playing that way all the time."
Junior Monica Touvelle added 13 points off the bench for YSU and freshman point guard Shar'Rae Davis scored 10 with five assists before fouling out with 10 seconds left.
Shalonda Winton led CSU (12-14, 4-9) with 20 points and nine rebounds.
The game featured eight lead changes and seven ties. The Penguins never led by more than six, but after taking the lead with 11:47 left, they never gave it back.
"I thought [we] showed a lot of toughness," Boldon said. "I thought Cleveland State played a good game. Thought they gave us a great effort and really, for an early part of the game, played better than us and harder than us."
The win came with a cost. With about 15 minutes left, Schlegel was battling underneath when she fell to the floor and started screaming and clutching her right knee. She was in tears as she was helped off — she couldn't put any pressure on the leg — and returned late in the game with crutches and an ice pack on the knee.
Schlegel missed part of her senior year in high school with a torn ACL and missed her freshman year at YSU with a foot injury. Boldon did not have an update on her status afterward.
"I saw her with ice on her knee," Boldon said. "That's all I know at this point."
Schlegel's injury leaves YSU with just seven available players, counting Flagg. (When a reporter pointed that out afterward, Boldon laughed and said, "Do you have any suggestions?") After Davis and Amanda Barger fouled out Thursday, YSU's only available bench player was freshman walk-on Taylor Hvisdak.
That's not good news for a team that plays at Loyola Saturday at noon.
"The rules say you've got to start with five," Boldon said. "So hopefully we'll have Karen back.
"If we play with seven, we play with seven. I truly believe that if we play with five, those five will play as hard as they can for as long as they can. If we have to do it, we'll to do it."
He paused, then added, "Or we'll see if Loyola will play four-on-four."