Lakeview's Lewises partners in life and on court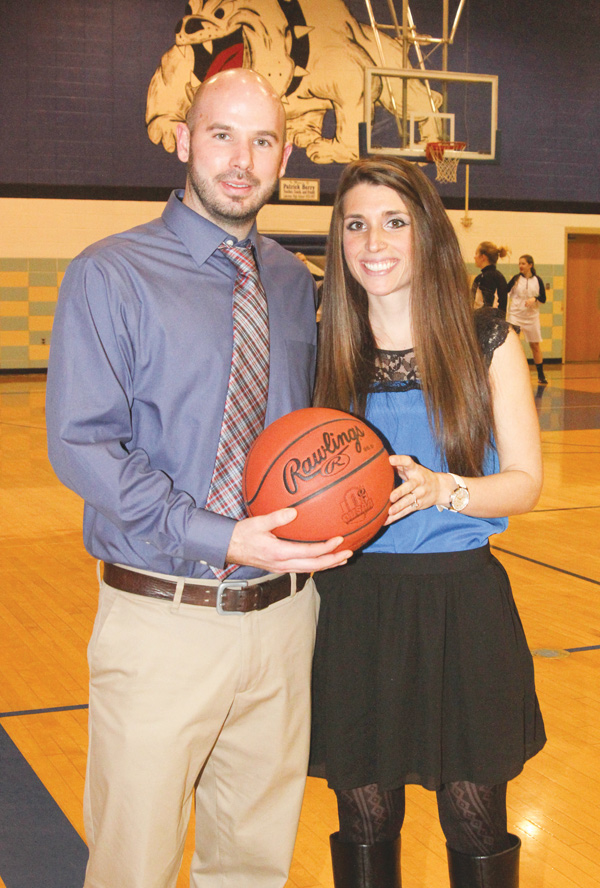 ---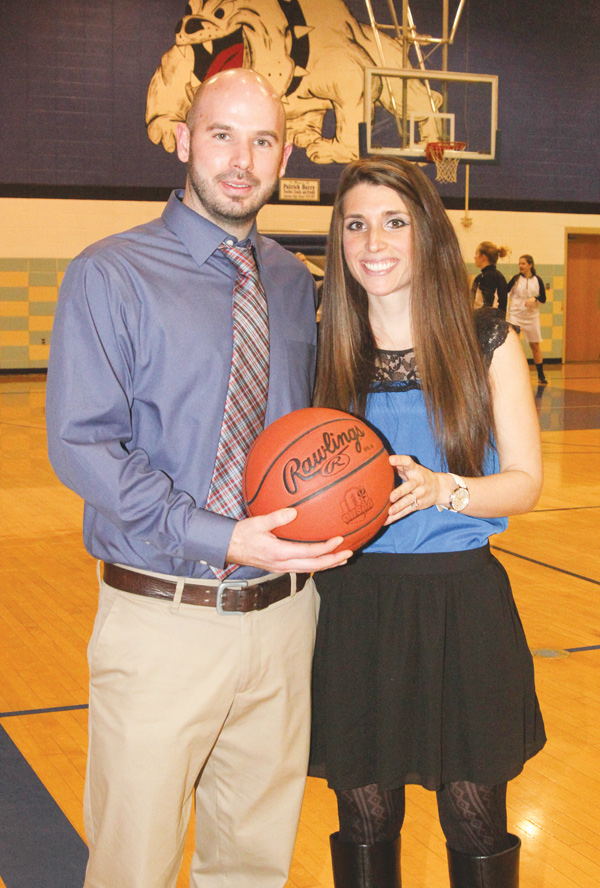 Photo
Adam Lewis has been coach of the girls basketball team at Lakeview High School for four years, and his wife, Sarah Brugler-Lewis has been at his side as assistant coach since.
Lewises are passionate about Lakeview girls basketball
By Steve Ruman
CORTLAND
Never bring your work home to your spouse!
It's a simple rule which most coaches will say is the secret to a happy marriage.
It's also a rule which Lakeview coach Adam Lewis readily admits he breaks on a regular basis.
"Basketball is usually the first thing I talk about when I wake up, and it's the last thing I talk about before I go to bed," Lewis said. "My wife expects it, especially this time of the year."
Before you get the wrong impression about Lewis, it should be noted that his wife, Sarah Brugler-Lewis, pays close attention to everything Adam says. There are even times when Sarah initiates the conversation.
You see, in addition to being Adam's wife, Sarah is also his assistant coach.
Adam is in his fourth year with the Bulldogs. Sarah has been beside him on the bench since he took over the program.
"It's a pretty good setup," Adam admits. "I mean, I don't know of any other area coach who gets to spend as much time around his assistant. We're always talking basketball, so it's like an extension to the preparation we put in during practice."
Adam and Sarah have been teamed up for more than a decade, ever since the two began dating while high school students at Bristol. Sarah graduated in 2000 after setting several school scoring records which still stand today. Adam, a standout in both basketball and baseball, graduated a year later.
"Sarah was the much better basketball player, I readily admit that," Adam said. "She is also a student of the game. Lakeview is very lucky to have her involved in its program. She knows her basketball."
Adam is a social studies teacher at Warren G. Harding High. For four years, he served as a Raiders assistant under P.J. Notar before getting the head job at Lakeview.
Sarah, an accountant, assumed that long work hours meant an end to her involvement with basketball.
"I always wanted to stay close to the game, but my work schedule would never allow for it to happen," Sarah said. "But when Adam got the (Lakeview) job, I threw the idea of becoming his assistant past my employer, who was extremely receptive and accommodating."
The players have also welcomed the husband and wife coaching duo, according to Sarah.
"Oh, they get a charge out of it," Sarah said. "If they ever see me and Adam debate over the simplest of things, they find it hysterical. They view us as a comedy routine."
The Lewises' basketball partnership has resulted in success. A year ago, Lakeview went 18-5, including a 10-0 record in the All-American Conference. The Bulldogs followed that up with a 17-5 regular-season finish this year, winning another league title in the process.
"The girls deserve all the credit for this year's success," Adam said. "Coming into the year, we didn't know what to expect. We had some holes to fill, but these kids just worked relentlessly to get to where we're at."
Lakeview will begin tournament play at 7:30 tonight when it goes against Perry in a Division II sectional final at Pymatuning Valley High School in Andover.
Until then, the Lewises will spend plenty of time — on and off the court — devising a game plan.