Canfield relay team chasing swimming gold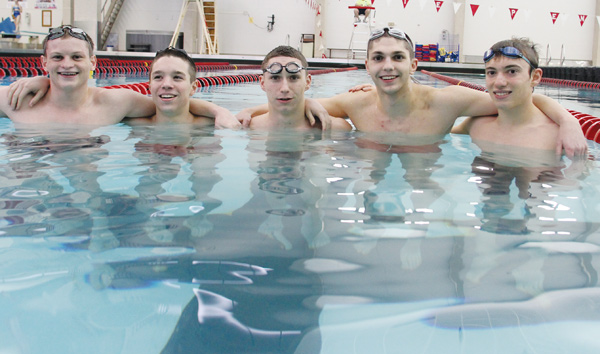 ---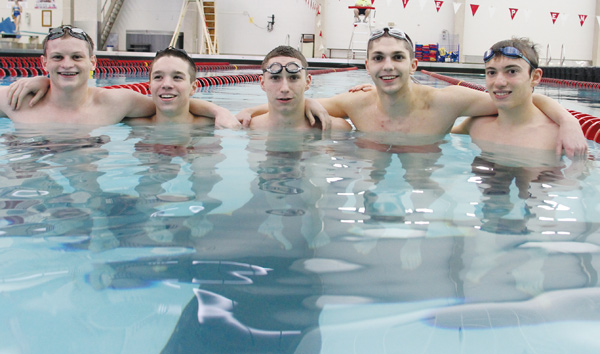 Photo
Canfield swimmers, from left, Connor Brady, Mike Cardone, Nicky Montalto, Daniel Bogen and Michael DiDomenico pause for a moment during practice at the Youngstown State University pool. The five enter this weekend's state swimming meet with a hopes of top-five finishes.
Canfield relays eye top-five finishes at state swimming meet in Canton
By Joe Scalzo
Two years ago, when Canfield's Nick Montalto was just a sophomore getting ready for his first state swim meet, senior Gavin Trebilcock gave the team's youngest member this advice: "Know when to use your juices."
What did he mean?
"Don't get nervous and don't psych yourself out," Montalto said. "Don't use your adrenaline until it's necessary."
It was good advice then. It's even better advice now, as the Cardinals enter this weekend's state meet with a legitimate shot at their first relay gold.
Montalto, along with sophomore Connor Brady, Mike Cardone and junior Daniel Bogen, are seeded third in the 200-yard freestyle relay with a time of 1:28.34 — just two-tenths of a second back of top-seeded University School. Those four are also on the fourth-seeded 400 free relay, giving Canfield's relays a chance of two top-five finishes for the third time in the last five years.
"We have the chance to do something big," said Bogen.
Canfield has a strong history in the relays — the Cardinals have had at least one at the state meet every year since 2006 — and three of the four swimmers (Brady, Montalto, Bogen) were on last year's 200 free relay, which placed ninth at the state meet. (The Cardinals actually had the fifth-fastest time in the finals, but because they competed in the consolation finals, they couldn't finish higher than ninth.)
Bogen and Montalto were also on last year's 400 free relay, which took seventh. Junior Michael DiDomenico, an alternate this year, also swam on that relay.
"If they need me this year, I'll be ready," said DiDomenico. "I'm just trying to support them any way I can, whether it's cheering them on or calming their nerves before the start — especially Connor. Before meets, he's like, 'Oh my gosh, I'm so nervous.' And I'm like, 'Calm down. You'll be fine.'"
Brady doesn't deny it — "My first race is butterfly and that's when all my nerves are coming to a T; after that everything gets a lot better," he said — and said he tries to use his energy to jump out to an early lead, then hang on.
"I try to kick out and be ahead and hopefully keep that lead," said Brady, who will also compete in the 100 back and 100 fly. "That way, all they have to do is swim as fast as they possibly can, keep us in front and there you go."
Cardone, who has dropped between three and four seconds in his 100 since last year, then gives way to Montalto, who gives way to Bogen, who has gone from hating the anchor spot to embracing it. Sort of.
"I don't know what to say about it [anchoring] other than it's completely nerve-wracking, it sends chills up your spine and puts a pit in your stomach," said Bogen, who is also a state qualifier in the 100 free and 200 free. "It's awful.
"But when you finish that race, and you touch someone out or beat someone to that wall, it's so worth it."
Canfield actually swam faster at the sectional meet (1:28.35, more than three seconds better than University School's time) than it did at districts, but Montalto said that loss may have been a blessing.
"We know not to underestimate anybody," said Montalto, who will also compete in the 50 free and 100 free. "Everybody is as good as we are."
Ultimately, though, the Cardinals are more worried about themselves than other teams.
"I'm just looking for a fast swim," Cardone said. "We want to go the fastest we've ever gone and whatever happens, happens."