Boardman native to appear on Jay Leno show Friday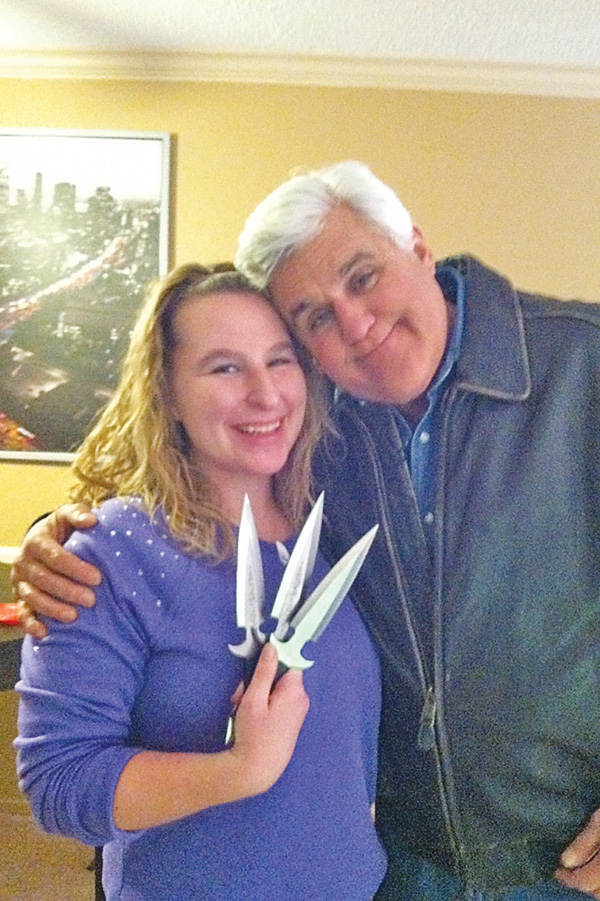 ---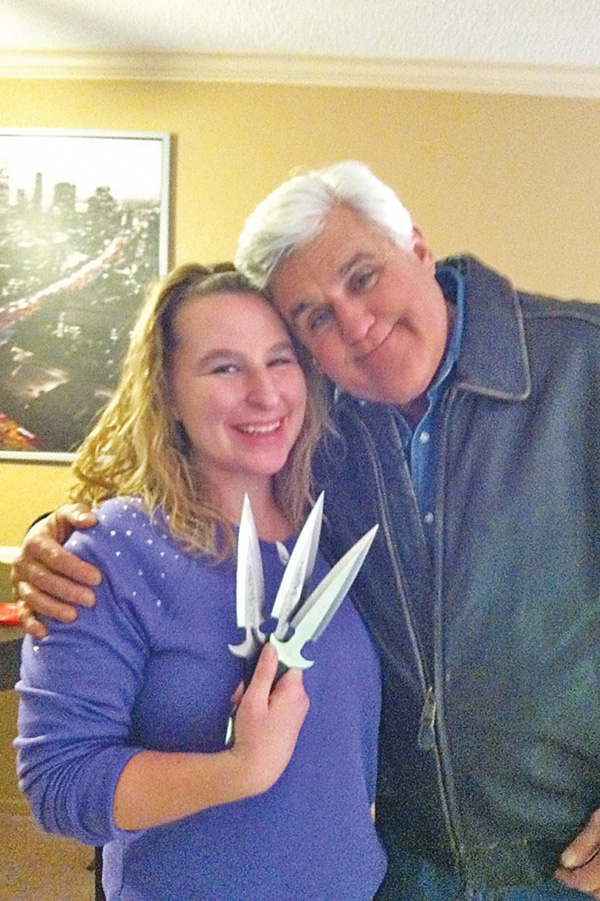 Photo
Amber Bohac gets a hug from Jay Leno. Bohac got a visit from the talk-show host and demonstrated her knife-throwing skills for him.
By GUY D'ASTOLFO
Amber Bohac recently answered a knock on the door of her Los Angeles apartment and saw Jay Leno standing there.
As a result, she'll appear on Leno's late-night talk show Friday night.
Bohac, a 19-year-old Boardman High School graduate, moved to LA in November to pursue a career as an actress.
Shortly after moving in, she learned that Leno, the host of NBC's "The Tonight Show," occasionally visits her apartment building because of all the aspiring actors who live in it.
The visits are turned into segments on the show.
"I knew there was a chance [Leno] would come by, but I was still surprised," said Bohac.
"The Tonight Show" airs at 11:30 p.m. on NBC and can be seen on 21 WFMJ-TV.
One reason Bohac might have been selected was because of what she told Leno.
Asked what she did for a living, Bohac excitedly replied, "I sing, dance, act and throw knives."
She knew the last part would catch Leno's attention.
Bohac demonstrated her knife-throwing ability to Leno and also talked to him about it.
The daughter of Bob and Theresa Bohac of Boardman, she learned knife throwing from her father, who she said has practiced Goshin Jitsu karate for years.
"Along with all the weapons training, knife throwing fell into place," Bohac said. "He started teaching me when I was 3, and I stuck with it. I'm not part of a [knife-throwing] act. It's just a skill I picked up along the way that is pretty cool to put on my acting resume."
Bohac has been active as an entertainer most of her life.
The 2012 Boardman High graduate was a dance captain for the school's drama guild and both show choirs. She appeared in many theater productions at the school.
She also studied dance and competitive gymnastics at Kathi's Dance and Gym Center of Poland from a young age.
Bohac studied musical theater with Maureen Collins at Easy Street Production and appeared in many musicals staged by the company. She was in "Miracle on Easy Street," the annual holiday show, 10 times.
She also studied voice with Collins and former Miss Ohio Amanda Beagle.
After performing in a showcase in Orlando, Fla., her senior year, she received an offer to sign with a talent agency in California.