Grateful cat purrs loudly when cared for after his Valentine's Day roadside abandonment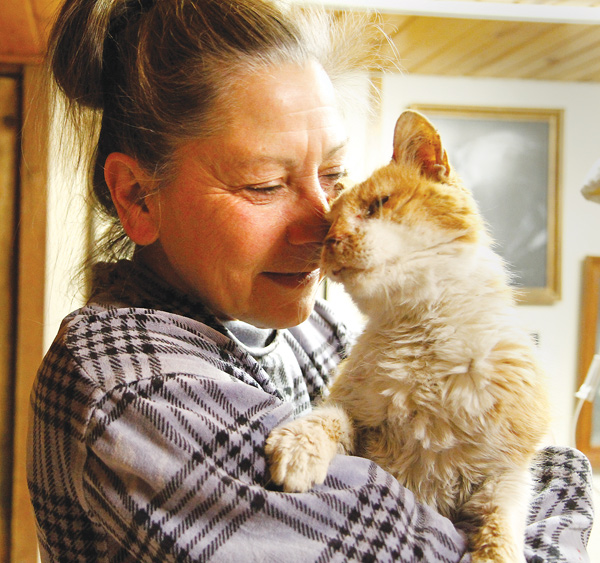 ---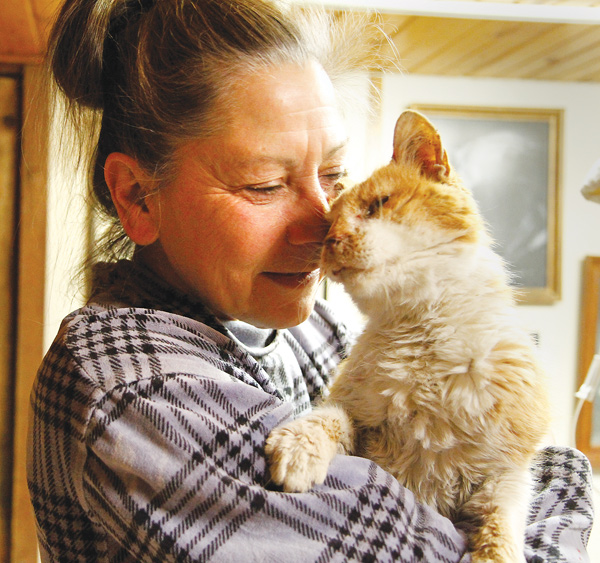 Photo
Diane Less, co-founder of Angels for Animals, cradles Valentine, the cat abandoned from a car Feb. 14 and rescued by a police lieutenant. Less hopes that Valentine, who is being nursed back to health, will be ready to be adopted into a new home in about a week.
GREENFORD
The medical condition of Valentine, the cat thrown from a car on Valentine's Day on Sharrott Road in Beaver Township, is improving, and Diane Less, co-founder of the Angels for Animals shelter, said she hopes he'll be ready for adoption a week from now.
Beaver Township police, who rescued the cat from the road Feb. 14 and took him to Angels, say they have made no arrests in connection with Valentine's abandonment. The caller who reported seeing Valentine dumped provided only a sketchy description of the car from which he was thrown and no license- plate number, police said.
"He's progressing nicely," said Less, who is caring for Valentine in her Green Township residence.
"We're just trying to get him to rest and heal," said Less, who is providing him with subcutaneous fluid-injection therapy for dehydration.
"He's starting to breathe better," as his nasal congestion abates, she said of the cat, who is at least 10 years old.
A volunteer has agreed to transport Valentine to an Akron veterinary ophthalmologist to determine whether he has any sight in his left eye and pay for that specialist's services, Less said. Valentine's right eye is missing.
Another volunteer has agreed to provide a foster home for the orange, tabby and white domestic short-haired cat until he is adopted into a permanent home; and several people have expressed interest in adopting him, Less said.
"He's just so sweet. ... As soon as you talk to him, he purrs," Less said.
Angels' veterinarian has difficulty listening to Valentine's heart and lungs because he purrs so loudly, and Valentine purrs even when he's being injected with the fluid-delivery needle, she observed.
Less said she has never before worked with an animal so grateful to be cared for.
"It's so wonderful to be able to help him. He's so appreciative," she said.