A Canfield woman won a new Cruze donated by Greenwood Chevrolet.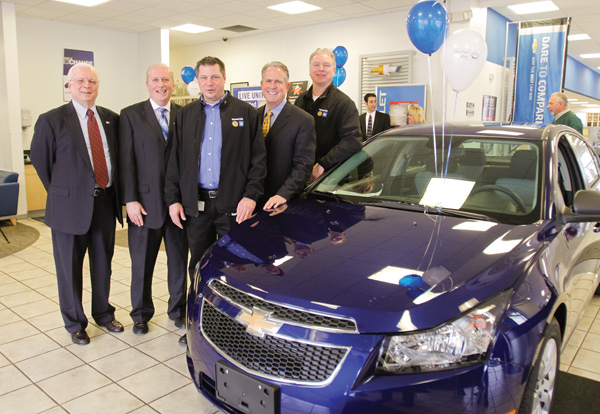 ---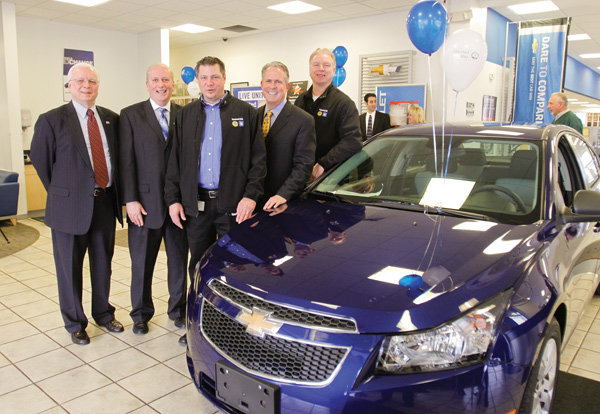 Photo
United Way officials and other leaders of the 2012 United Way of Youngstown and the Mahoning Valley campaign stand with the Chevrolet Cruze donated as a campaign incentive. From left, Thomas J. Krysiek, Trumbull County United Way president and chief professional officer; Robert Hannon, Youngstown/Mahoning Valley United Way president; David Green, president of United Auto Workers Local 1714 at General Motors Lordstown; Greg Greenwood, owner of Greenwood Chevrolet; and Glenn Johnson, president of UAW Local 1112 at GM Lordstown.
AUSTINTOWN
There are two big winners in the United Way of Youngstown and the Mahoning Valley's 2012 financial campaign, which exceeded its $2.5 million goal.
First, the community won.
By raising $2,504,224, United Way will be able to continue funding programs and initiatives that impact the lives of many families across the Valley, Robert Hannon, United Way president, said at Tuesday's news conference at Greenwood Chevrolet.
The big individual winner was Myra Vitto of Canfield, who won a new Chevrolet Cruze when her name was drawn by Amir McNeil, 5, a preschool student at Potential Development.
The four-door Cruze, with a sticker price of $19,190, was donated by Greenwood Chevrolet. Greenwood donated the vehicle as a campaign incentive for United Way efforts in both Mahoning and Trumbull counties.
Vitto, vice president and senior trust adviser in PNC Bank's Wealth Management Group, was one of 1,400 in Mahoning and Trumbull counties who, when they donated at least $200 to this year's campaign, became eligible to win the car, the campaign's major incentive.
"You've got to be kidding," she said when told she had won the car. Another potential winner is Vitto's son, Julian, who turns 15 in June and whom she said should have a driver's permit by the end of the year.
Amir, the son of Andrea and Fredrick McNeil of Youngstown, accompanied by his mother and grandmother, Margie Ready of Liberty, also drew the names of a lucky person who won a $250 Get Go gas card from Giant Eagle; and a firm that won a $500 gift certificate from Modern Office Products.
Hannon said it is a "tremendous accomplishment to reach our campaign goal in this tough economic climate. We are grateful for everyone who supported this campaign and the programs and initiatives we fund in the areas of education, income, health and community-support services that provide the essentials of food, clothing and shelter."
"This is a great day for United Way," said Ted Schmidt, campaign chairman and PNC regional president.
"On behalf of all those in our community who again came together to support our local United Way, we can be very proud of what we've achieved," he said.
For the 2012 campaign, 81 pacesetter companies conducted their campaigns from mid-July through August, raising $545,871 or 22 percent of the campaign goal.
The largest combined corporate/workplace campaigns were General Motors Lordstown Complex, Altronic LLC, PNC, FirstEnergy Corp., and Hynes Industries Inc. The largest new corporate/workplace campaigns were conducted by Muransky Companies/The Surgical Hospital at Southwoods, and Exal Corp., Hannon said.
Compared with many United Ways around the country, "I feel we are ahead of the curve. I feel good about where the Valley is going," said Hannon, who thanked the United Way staff and volunteers, including its board of trustees.
Hannon had special thanks for Greg Greenwood who Hannon said gives out of his own pocket, runs a corporate campaign, and helps with other events; and the GM Lordstown Complex, which he called "our foundation. We need them."