Politano's return powers McDonald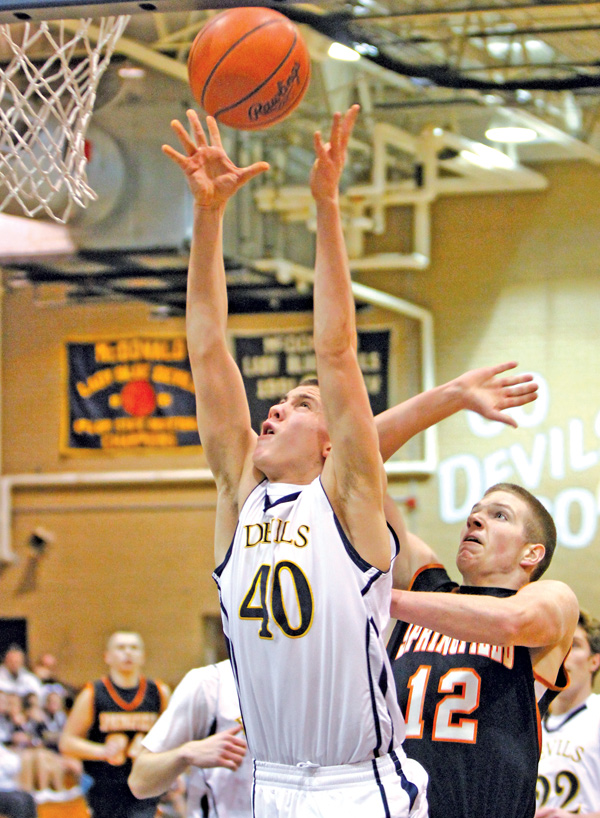 ---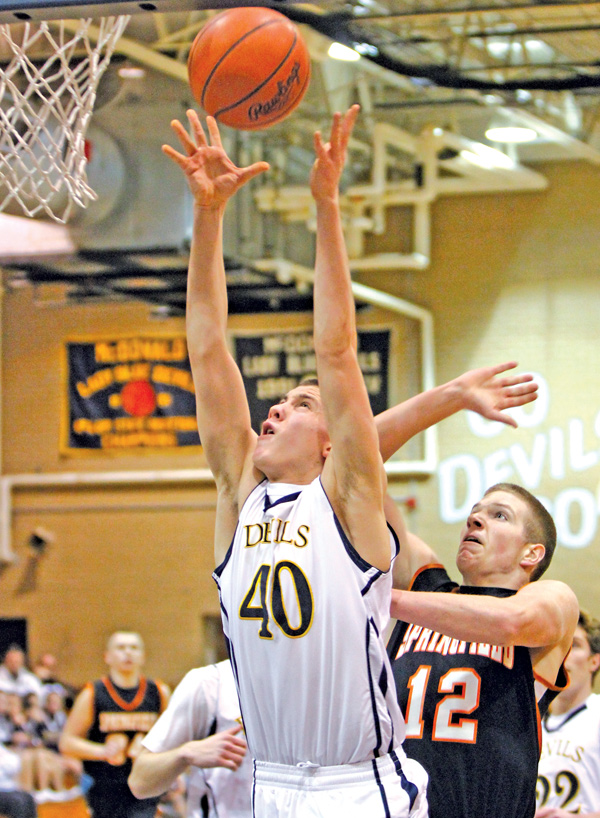 Photo
McDonald's Matt Seitz (40) grabs a rebound ahead of Springfield's Mark Schuler (12) during their game Tuesday in McDonald. The Blue Devils downed the Tigers, 82-61.
Politano returns from mono to energize McDonald
By Joe Catullo Jr.
McDonald
During Senior Night at McDonald High on Tuesday night, the last player introduced in the starting lineup was Stephen Politano, playing in his first game since being diagnosed with mono.
The crowd erupted, shouting, "The return!"
Politano normally sleeps before games, but started feeling dead tired a month ago after waking up. His shooting side was ailing, namely in the heart area.
Politano underwent medical tests at an area hospital and was diagnosed with mono.
"The doctor said I could rupture [the spleen] and possibly die," Politano said. "I was shell-shocked; I couldn't believe it. I had three weeks left in my senior season. I really didn't want any roadblocks."
Politano said he felt ready to play 11 days prior to the game, but the doctors told him to give it another 10 before making a decision.
Politano went for a sonogram at 6:50 a.m. on Monday at the Surgical Hospital at Southwood. Politano began practice at 10 a.m. and anticipated the possibility of returning.
"I was just praying to get back," Politano said.
The senior guard returned to the hospital in the afternoon and learned his doctors had cleared him to play. Politano immediately texted his coaches and teammates and his mother called McDonald coach Jeff Rasile. Springfield — the Blue Devils' opponent Tuesday night — also was affected. Politano said he knows about half of the Tigers' players.
"I told them before the game, 'Win or lose, I still love you guys,'" he said.
Politano didn't miss a beat, scoring 16 points during McDonald's 82-61 victory.
"They got Stephan Politano back, who's a good knock-down shooter," Springfield coach Eric Fender said. "I talked with their coaches, and he's the one that makes them go. He's the dynamic of what they do."
Rasile said Politano "sparked" the Blue Devils (18-4) during the 50-point first half while the Tigers (15-6) mustered 24.
"They struggled with our pressure," Rasile said. "I think they started getting down on themselves a little, but they kept hanging tough, which is to be expected."
The Tigers brought the deficit within 19 at best but couldn't climb out of the hole. Fender said they had to deal with adversity throughout.
"We won the second half for as ugly as it may have seen," he said. "We came out on top, which is what we told our guys we had the object to do."
McDonald's top scorer was Matt Seitz, finished with 31 points. Kenny Greaver had 19. McDonald's starting lineup tallied all but two points.
"I really wanted to be out there in my last [home] game, especially my teammates," Politano said. "They backed me up 100 percent every time, and we brought it tonight. I couldn't be happier."
Eoghan Bees led the Tigers with 18 points and Jared McTigue had 17.