Station Square is where ... Everyday feels like a weekend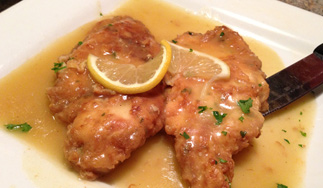 ---
By Ross Morrone
YOUNGSTOWN
For this week's Food:30 I was only half telling the truth when I said Steph and I were going to a place we have never been before.
You see, I was at Station Square for a Signature Dish review last year and was blown away by the delicious food that I had.
Since it was Valentine's Day week, I figured I could kill two birds with one stone and revisit what I already knew was a romantic restaurant with great food and write a review on the restaurant itself.
If you read my Sig Dish review of Station Square, you will remember that owner and chef Ottavio Musumeci prides his restaurant on fresh organic ingredients and special dishes. With this knowledge you can expect that your meal will be starting out with your taste buds in mind.
The restaurant itself has a great mood when you step in the door. It is sectioned off by the bar area and the main dining area.
The bar area offers a place for larger parties to enjoy good company and, at times, get a little loud as most friend and family gatherings do.
The dining area offers a quieter atmosphere with more booths and some centered tables.
Steph and I always like the secluded romantic setting of a booth, and as we took our seats on the bar side we quickly ordered some bread and began searching for a great meal.
The unique thing about Station Square's menu is that the specials menu could be a full menu on its own. There were over 20 specials to choose from that I couldn't find placed on the normal menu.
What was even more interesting was that the B-side of the menu offered 13 choices that are designed to be from 13 different regions of Italy. An authentic food adventure, for sure.
To start, Steph decided that the Broiled Stuffed Shrimp ($8) would feed our immediate hunger. It's butterflied shrimp broiled in butter and served with crabmeat stuffing. Four on a plate and lined in a row, these appetizers got our taste buds dancing. The shrimp was tender and tempered with butter for a nice savory flavor. The crab stuffing was charred on top and tender underneath. The seasoning of the crab complimented the sweet delicate taste of the meat and, mixed with the shrimp, made this appetizer a delicious one.
For my meal I wanted to get something I haven't had in awhile, so I went with the Chicken Cordon Bleu ($14) with a side of Garlic Red Skin Mashed Potatoes. The chicken was a good-sized rolled breast stuffed with ham and Swiss cheese and lightly breaded. The ham was sweet in flavor that meshed well with mild sharpness of the Swiss, all packed in the tender juices of the chicken. The entire roll was emerged in an excellent Hollandaise sauce.
Sometimes Hollandaise sauce can be bitter if the lemon flavor is too strong, but this one was more reserved in flavor and had a richer egg yolk to it. It complimented the flavors achieved in the chicken perfectly.
The garlic potatoes were packed with some garlic heat. You will definitely carry that scent along with you for the rest of the night and well into tomorrow, but if you are like me, this means you don't have to wear any cologne the next day.
I recommend that if you have the Hollandaise sauce like I did, that you combine it into the potatoes for a little extra something special.
Steph went with a go-to favorite of hers in the Chicken Francaise ($14) — two chicken cutlets in sherry wine, lemon and butter. The cutlets were lightly breaded and sitting in a pool of the wine combination. They were tender to the fork and soft on the palate. The combination in the sauce really wakes your senses up as they are hit with sweet, sour and savory all at once.
Although you can find the traditional Francaise dish saturated in this area, the fresh organic preparation at Station Square really sets this one apart from others. Organic meat really carries its flavor differently than other grades.
All in all, Station Square is a perfect example of what other restaurants should strive to be. On a Monday night the restaurant was almost full, showing that the quality and reputation of a good restaurant will make everyday feel like a weekend.
It was a great romantic dinner and setting for Steph and I to enjoy together during the Valentine's week. If you want to experience great food and a relaxing atmosphere, take your eating talents to Station Square, and indulge your taste buds in some perfected food.
About Food:30
We are offering a glimpse into local restaurants and eateries, reviewing their food offerings. Check out our blog on www.vindy.com/news/valleyfood.