Jackson's prayer is answered in Harding victory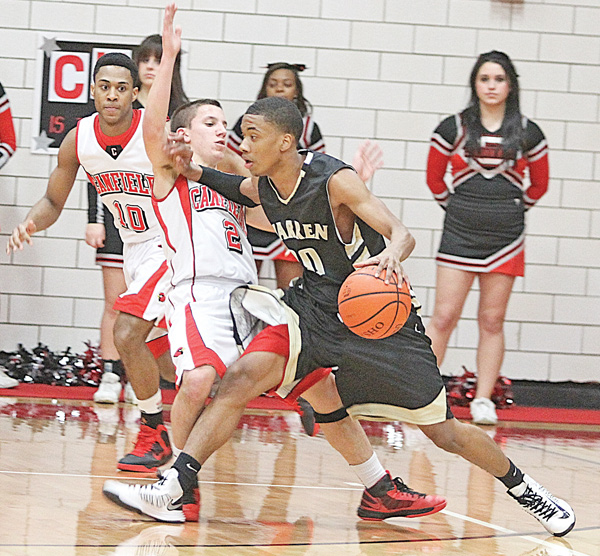 ---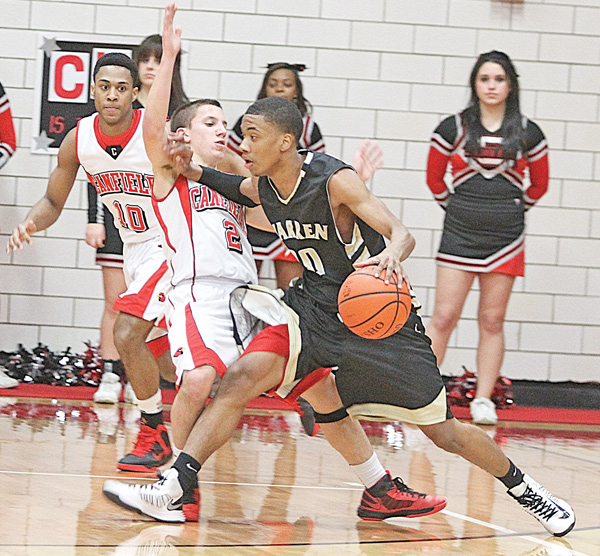 Photo
Canfield's Cole Pryjma (2) draws the charge on Anthony Bell (30) of Warren Harding during their game Tuesday in Canfield. The Raiders edged the Cardinals, 61-58, on a 3-point buzzer beater by O'Sha Jackson.
By Ryan Buck
CANFIELD
Warren Harding senior guard O'Sha Jackson had no choice. He was stranded with the ball 25 feet from the basket as time quickly vanished from the scoreboard on the wall before him.
With two Canfield defenders hounding him on the right wing and mere steps from the sideline, limiting any sensible passing opportunity, Jackson did the only thing he could do.
"I saw two seconds and I had the right release and had to follow through to the hoop," Jackson said.
Jackson pivoted to his right, back to his left, and launched a prayer of a 3-pointer over the outstretched arms of Canfield defenders Marco DeLorenzo and Andrew Midgley that hit nothing but net as the buzzer sounded in the Canfield High gymnasium.
"I'm lucky it went in," Jackson said.
The final three of Jackson's game-high 23 points gave the Raiders a 61-58 victory on Tuesday night.
"It was desperation time at that point," said Harding coach Andrew Vlajkovich, who originally drew up the final play for Jackson's teammate Mik'quan Dorsey. "I probably should have called another timeout there, but I figured we'd just make a play off the scramble situation and, luckily, we did."
Canfield couldn't have defended the Raiders' final play much better.
"I'm proud of our guys," Canfield coach Todd Muckleroy said. "It's tough to be mad at them in there right now. Looking at the percentages of a coach and shooting, you're willing to give up that shot, and it's better than a layup.
"It's a shame we have to lose like that after battling so hard, but that's what happens in basketball sometimes."
The Cardinals methodically fought back from a 10-point, fourth-quarter deficit. Midgley scored five straight points to cut Harding's lead from eight to three with 2:50 left in the game.
Canfield point guard Cole Pryjma found DeLorenzo alone on the left wing and he buried a 3-pointer to tie the game at 56 with just less than 2 minutes remaining.
On the Raiders' next possession, Greg Jackson's drive from the right wing drew a two-shot foul and he calmly made both.
At the other end, Pryjma's rush to the hoop with 1:08 tied the game again, and a foul on the shot sent him to the line with an opportunity to take the lead.
The foul shot missed its mark, giving Vlajkovich time to draw up a final sequence after the Raiders held for the last shot.
"I called it for Mik'quan because he's been kind of our better scorer, but O'sha has been unbelievable for us all year," Vlajkovich said.
Jackson made shots in just about every fashion throughout the game.
"I saw open gaps," Jackson said. "My teammates got the ball in my hands and I was able to make plays."
He drove the basket at will in the first half for 16 points, then stepped back for outside jumpers when Muckleroy ordered his defense to limit inside opportunities in the second half.
Vlajkovich, a Canfield graduate who once held the point guard job for the Cardinals, left his alma mater with a memorable win.
"This isn't about me," Vlajkovich said. "Tonight wasn't about coming home. Tonight was about getting better for that tournament."