Fitch spoils Boardman's Senior Night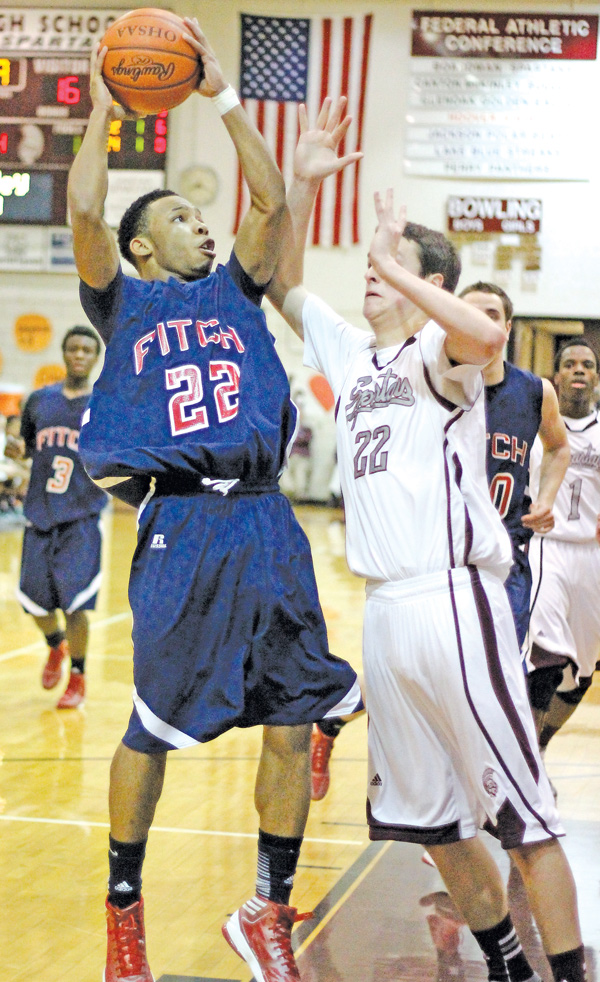 ---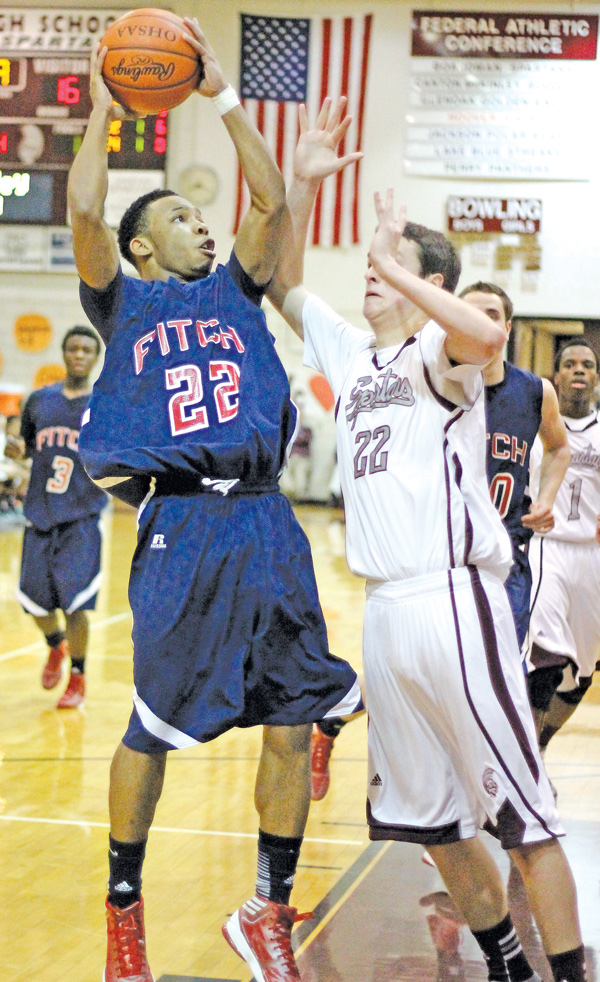 Photo
Quincy Higgins of Fitch goes for the jumper against Boardman's Dylan Bosela during the third quarter of their game Tuesday in Boardman. The Falcons defeated the Spartans, 35-25.
By Dan Pompili
BOARDMAN
Boardman welcomed Austintown Fitch for Senior Night and the evening had all the energy of a rivalry game.
Then the game started.
Sort of.
At any rate, the Falcons eventually prevailed, 35-25.
"From our standpoint, I was very proud of our defense," Fitch coach Brian Beany said. "I told the kids at halftime that if you keep playing defense like this, you're going to win this game. We beat them last year for our senior night, and tonight it was theirs and we certainly wanted to come in and spoil that."
But the action was ugly for a while.
There was some commotion on the basketball court, as coaches yelled in that general direction and the referees blew their whistles and pointed to something that had gone on among the people occupying the court.
This continued for quite some time.
Whatever was happening, it seemed Fitch was doing it slightly better than Boardman. This was verified when a buzzer halted activity, and the scoreboard said Fitch 5, Boardman 1.
All sources seemed to agree that the uniformed teenagers on the court were, in fact, playing basketball.
They did more of this until another buzzer sounded. This time the scoreboard said Fitch 12, Boardman 6.
Boardman coach Pat Birch attributed the loss to a lack of production against Fitch's zone defense. Scoring against the zone, he said, has been the Spartans' Achilles' heel all year. He added that unforced turnovers didn't help. Still he lauded his seniors for their strength of character.
"I am proud of my seniors," Birch said. "They could have given up at several points in the second half but they had the heart to fight and make a comeback."
Both teams pickedup the pace as the second half began.
Quincy Higgins scored six points in an early 8-0 Fitch run. Boardman finally found the basket too, and with about 35 seconds remaining in the third quarter, the Spartans broke the 10-point mark.
The fourth quarter began to look like a basketball game between two conference rivals. Boardman senior Jamar Steverson led a rally that brought them within four points. This run included a Steverson dunk off a fast break that awakened the Boardman faithful.
But with 90 seconds to play, Boardman was down 29-25 and would not score again, as strategic fouling led to Fitch free throws that sealed the victory.
Senior Dylan Bosela led Boardman with 10 and Steverson added eight. Jessie Driver led Fitch with 13 and Higgins added 10.