Cocca's Pizza moves, expands flagship restaurant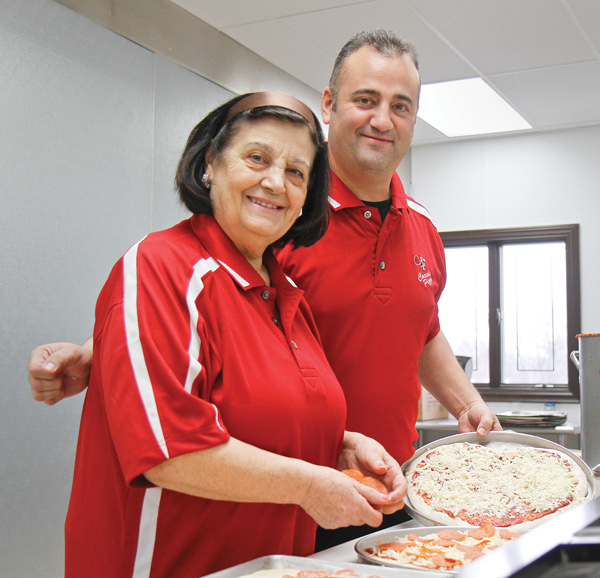 ---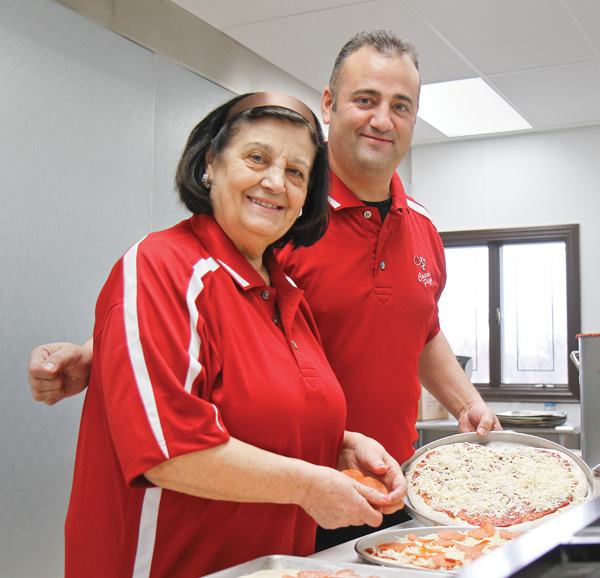 Photo
Tina Cocca, left, and her son, Steve, who oversees the Cocca's Pizza chain, recently moved their flagship location to the former New York Music building in Boardman. The new quarters are bigger, with eight ovens that can cook 48 pizzas every 15 minutes. There also are menu additions, such as panini and authentic Italian sandwiches. The company hired 10 new employees.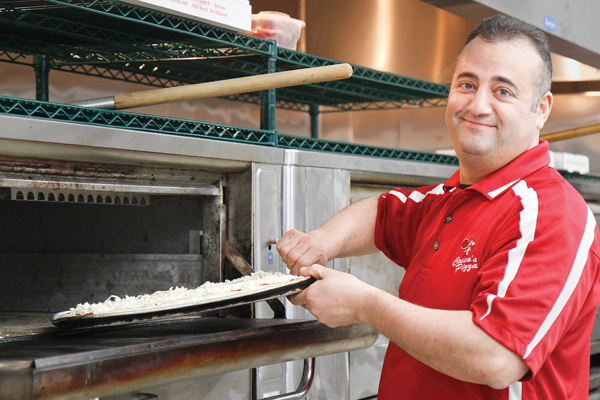 Photo
Steve Cocca pops a pizza into the oven at the new restaurant.
BOARDMAN
More than 30 years ago, the first Cocca's Pizza opened at 7185 Market St.
The flagship shop has since moved, but not far — just across the street to the former New York Music building.
"This is the heart of Boardman," said Tina Cocca, who founded the local pizza chain in 1982 with her husband, Nick Cocca.
The new restaurant opened Jan. 21 and, at 7,200 square feet, is more than three times as big as the old location.
"It's a new venture for us with a full-service dining room. We outgrew the other location that my father built about 10 years ago. We could have renovated next door [the old shop] and it still wouldn't have been the same size," said Steve Cocca, Tina's son, who oversees the company.
The additional space holds eight ovens that can cook 48 pizzas every 15 minutes and enables menu additions, such as panini and authentic Italian sandwiches with traditional meats and cheeses. The company hired 10 new employees.
Cocca's purchased the building in December 2011 and, after gutting it, spent one year building a 120-seat restaurant with expanded kitchen and a corporate headquarters.
"It's comforting because it's right across the street, and the phone numbers are still the same," Tina said.
An arcade and children's play area have been added, and about 60 seats are set off in a semiprivate area that can be rented for birthday parties and other events.
Steve's wife, Theresa, coordinated the decor of rich tile and warm, brown tones.
"She wanted a family atmosphere," Steve said.
That wasn't lost on Colleen Valdez of Boardman, a regular Cocca's customer who brought her 6-year-old daughter, Zoe, with her to buy a heart-shaped Valentine's pizza.
"It's just beautiful. It doesn't look like a pizza joint. They have good
food, of course; the staff is nice, and it's a family- oriented business," she said.
Steve said the expansion project was a result of family, too. Relatives pitched in, Delucia Construction handled almost all of the building needs, and Steve's sisters, Maria and Angel, continued supervising operations at Cocca's four other pizza locations.
In some ways, leaving the old Boardman shop was difficult.
"I haven't gone back over there since it's been empty because of all the memories," Tina said.
She recalled how her husband built the shop and how Steve "used to fall asleep in the booths."
But the shop won't sit idle for long. Within two weeks, Cocca's will open Vito's Beer & Wine, a new carry-out store there.
Steve said the new location will allow the company to focus on its growth — the goal is 10 Cocca's Pizza locations — and coordinate every store from a central office. Cocca's Pizza is in Canfield, Liberty, New Middletown and Poland.
"It will allow us to expand it for the future," Steve said. "We always feel the sky's the limit."