Youngstown public works official suspended without pay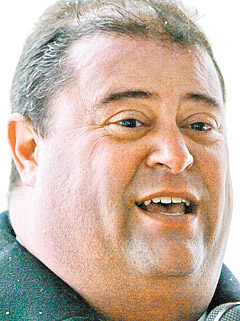 ---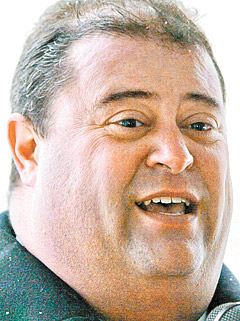 Photo
Charles T. Shasho, Deputy Director of Public works
RELATED: • Youngstown commission recommends waivers for gas station, pool hall
• Youngstown council will approve fracking charter amendment
YOUNGSTOWN
The mayor will suspend the city's deputy director of public works for one day without pay for failing to inform all business owners impacted by a major sewer project on a key section of one of downtown's busiest roads.
Mayor Charles Sammarone said Charles Shasho, deputy director of the public works department, has to be responsible for his actions.
"It's his first suspension, so it's one day," said Sammarone, who considered a penalty of three days. "The point isn't the length of the suspension. The point is to make sure it doesn't happen again. The suspension is to drive home a thought that [there are repercussions] when you screw up. I keep pushing accountability. If you make mistakes, you've got to be held accountable."
As for the suspension, Sammarone said it's only one day out of "the kindness of my heart."
Shasho declined Tuesday to comment to The Vindicator about the suspension.
The suspension, likely to be Monday, will cost Shasho about $323. He earned $83,948 in salary last year, according to payroll records provided by the city's finance department.
Sammarone said he met with Shasho and others before the Feb. 4 start of the $1 million sewer project that shut down West Federal Street near Phelps Street. The intersection reopened Tuesday.
At that meeting, Sammarone said he specifically told Shasho to inform every business owner in the area about the project.
Shasho — with the assistance of Lyndsey Hughes, downtown director of events, special projects and marketing — told most business owners, but acknowledged he missed a few. Sammarone said Shasho — and not Hughes — is responsible for the problem.
Hughes said she was told by Sammarone to let Shasho and Marucci and Gaffney Excavating, the Youngstown company doing this work, inform business owners "because they could have technical questions. I had a feeling that people weren't finding out so I let them know."
Among those not contacted by Shasho or Hughes was Robert Faraglia, owner of Roberto's Italian Ristorante at 103 W. Federal St., located in the heart of the work area.
Faraglia and Barry Silver, owner of Silver's Vogue Shop at 27 W. Federal St., also in the middle of the project area, said in a Saturday article in The Vindicator that they had no warning the work was going to start and vehicular traffic would be closed at Phelps.
Sammarone said he read the article and called Shasho on Saturday, asking, "Didn't I tell you what to do?"
The mayor said, "We all make mistakes, but don't make a mistake I have to answer to. If I slip on a banana peel, I want to be the one who dropped it."
On Tuesday, Sammarone decided to suspend Shasho because this is the third time the mayor reprimanded him.
The two other letters were for failing to correctly inform Sammarone in September 2011 of building-code violations at a house on South Champion Street, which led the mayor to provide wrong information to the media; and in February 2012 for "failure to perform" his duties by not promptly responding to a directive to fix a light at the Himrod Avenue exit on Interstate 680, and for not addressing streetlight problems on West Federal Street in "a timely manner."
Besides West Federal closed at Phelps, it also was restricted to local traffic only at Hazel and Market streets.
Phelps between West Commerce and West Boardman streets remains closed.
Marucci and Gaffney will be back at the West Federal-Phelps intersection around April to repave that area.
Next on this major sewer project is similar work on West Commerce Street at Phelps that also will restrict traffic between Hazel and Market streets, Shasho said.
A Thursday meeting will determine when that work commences, Shasho said.
The project up Phelps Street ends on Lincoln Avenue.
A pedestrian walkway between West Commerce and West Wood streets will be dismantled and replaced, Shasho said.