Tires causing problems in Hubbard Township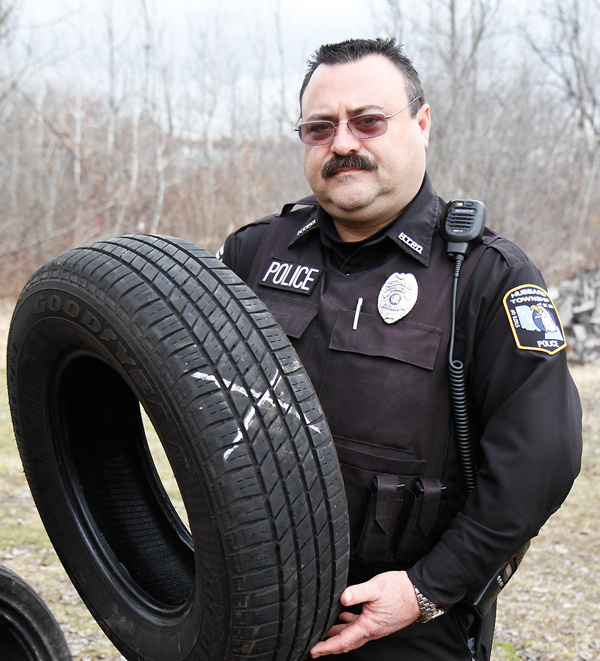 ---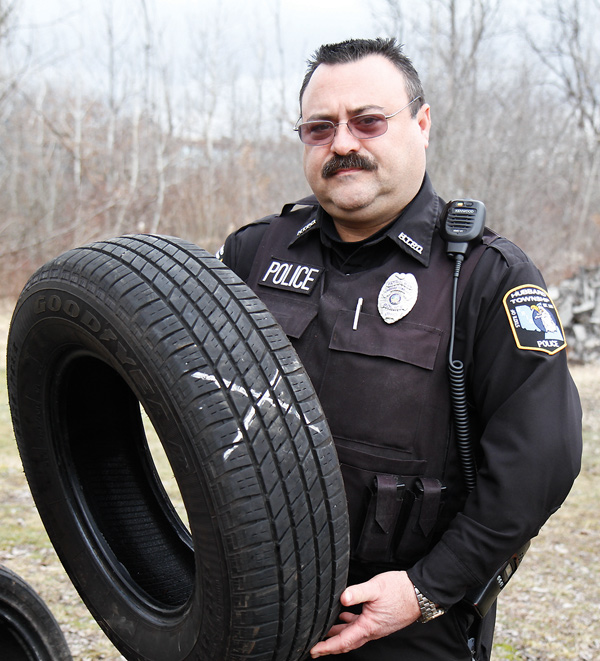 Photo
Officer William Greene of the Hubbard Township Police Department shows a tire that was recovered from a rural township road. The police have seen an influx of old tires being illegally dumped on rural roads.
By Danny Restivo
Hubbard
Township officials believe a commercial company is behind an influx of tire dumpings throughout the township.
Police Chief Todd Coonce said police are investigating several incidents of dumping in the township.
The most recent occurred Feb. 5 when police found six tires dumped near Campbell Wick Road. Six days earlier, police found 41 tires littered alongside Mount Everett Road.
Coonce believes a trucking company charged with picking up old tires from automotive repair shops is responsible for the dumping. He said it would be unusual for a large number of tires to originate from a single vehicle.
"They are obviously coming from a shop somewhere if its this number of tires," said Coonce.
Coonce said anyone caught dumping tires will be charged with open dumping, a felony.
He said police are asking mechanics at automotive repair shops for names of businesses responsible for tire collections.
Trustee Fred Hanley said he's lived in the community his whole life and has never seen anything like this.
He said the township has always had a problem with waste disposal because of its rural location, but the problem has spiraled out of control recently.
Hanley said the tire issue is now costing the tax payers money.
"We have to pay for disposal every time someone dumps the tires," he said. "It's not fair to the citizens, and we can't keep dumping these tires ourself."
Hanley said tires are also thrown in abandoned lots and vacant houses. He said it costs the township manpower to dispose of the tires before they can demolish the buildings.
Coonce and Hanley are asking residents to record license plates of trucks seen carrying tires. Both men said anyone seen dumping tires should be reported immediately to police.
Hanley said the township currently has a $4,000 grant from the Trumbull County Solid Waste Management District to help dispose of the tires from resident vehicles. He said if people keep dumping tires illegally, the township will have to ask for more money or reallocate other funds in the township. He said it's a black eye on the area.
"We can't let people get away with dumping brine water in our rivers, and we can't let them get away with dumping tires in our community," he said.