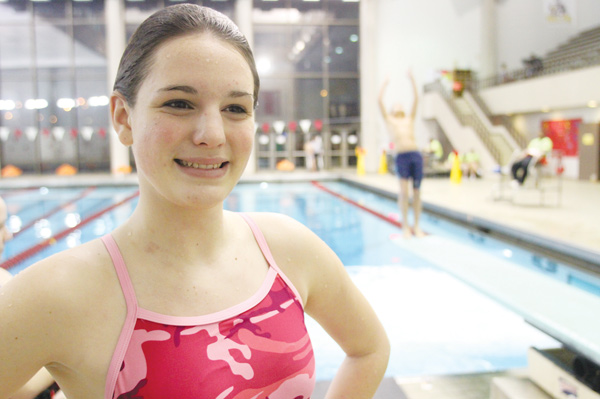 ---

Photo
Girard diver Savannah Teter practices at the pool at Youngstown State University. Teter is the only state diving qualifier from the Valley — the first in Girard history — headed to the preliminaries Wednesday at Canton's C.T. Branin Nataorium. Of 24 divers, she is seeded 17th. The top 16 advance.
Girard's Savannah Teter is off to face state competition
By Joe Scalzo
YOUNGSTOWN
Just before the biggest meet of Savannah Teter's (admittedly brief) diving career, her coach, Ron Navarra, scanned Cleveland State's Busbey Natatorium and, thankfully, found what he was looking for.
It was on a wall near the diving board: a wood board, holding up the life preservers.
"I said, 'Look, here's some wood,'" he said. "This is where you can knock."
Some athletes have lucky songs. Others have lucky foods. Or lucky socks. (Although that one is pretty rare for divers).
With Teter, her secret is knocking on wood.
"I'll say, 'Oh, I hope I do this dive good,'" she said. "And I'll knock on a board so I don't jinx myself."
They say it's not crazy if it works — and it worked for Teter last weekend. She scored 329.40 at last week's Division II district meet at CSU, earning the sixth and final state qualifying berth by three-tenths of a point.
"I was so excited when I actually made it," she said. "I was on the podium and I couldn't stop smiling."
Teter, the Mahoning Valley's only state diving qualifier and the first one in Girard's history, is seeded 17th out of 24 divers for Wednesday's preliminaries, which begins at 9 a.m. at Canton's C.T. Branin Natatorium.
The top 16 advance to the finals.
"There's a lot of good competition there," said Navarra, who has coached 15 state qualifiers in the last eight years, "but I think she can finish in the top 10."
Other than the summers spent jumping into her grandmother's in-ground pool, Teter had no diving background until she joined the Youngstown Area Diving Academy in eighth grade.
But she had a strong gymnastics background, first at Olympic Dreams in Liberty, then at Youngstown Gymnastics Center in Boardman. Problem was, she also developed a strong emergency room background, breaking nine bones.
Diving seemed a better bet (water tends to have more cushion than even the softest gym mat) and Teter quickly developed under Navarra and Nick Gavolas, who also coaches YSU's divers.
Teter thought she'd use this year to get her feet wet (no pun intended) but she performed so well in regular season meets that Navarra ramped up expectations, both for this year and beyond.
"She's got a good level of skills right now; she just needs to add some more difficulty," he said.
When asked what she's capable of doing by the time she graduates, he hesitated, then smiled.
"I don't want to jinx her," he said. "But I know what she could be.
"She's got the potential to go all the way."
(You know, knock on wood.)