West is best in All-Star game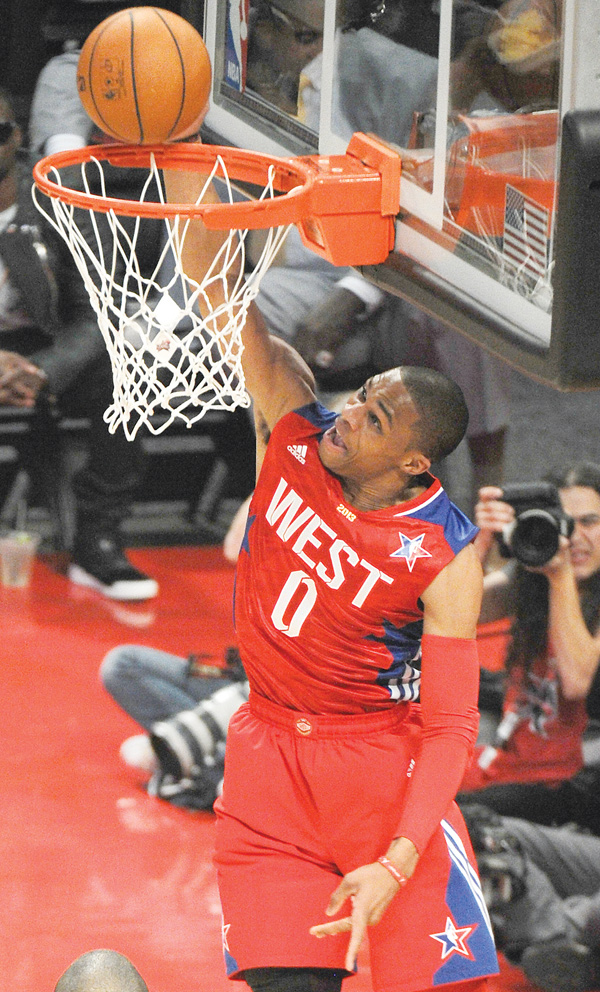 ---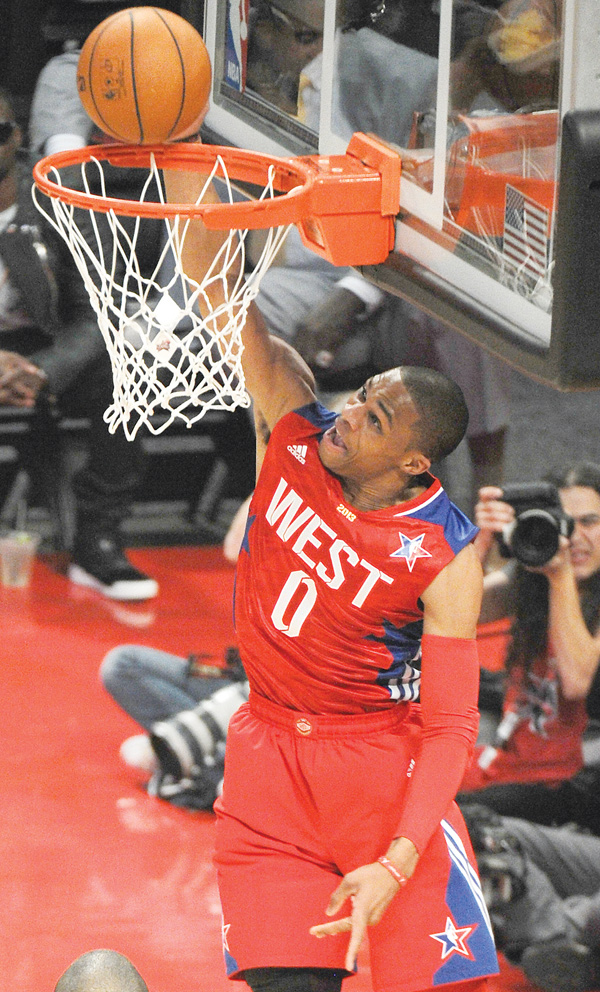 Photo
West Team's Russell Westbrook of the Oklahoma City Thunder makes a layup against the East Team during the first half of the NBA All-Star game Sunday in Houston.
Associated Press
HOUSTON
Chris Paul, Blake Griffin and Kobe Bryant turned this West victory into an L.A. story.
Paul had 20 points, 15 assists and won MVP honors, Bryant blocked LeBron James' comeback attempt, and the Western Conference beat the East 143-138 on Sunday night.
Kevin Durant scored 30 points and Griffin finished with 19, joining his Clippers teammate, Paul, in creating Lob City deep in the heart of Texas.
James scored 19 points but shot only 7 of 18 after having no shooting troubles during the latter part of the season's first half. Carmelo Anthony led the East with 26 points and 12 rebounds.
The first dunk of the game came 16 seconds in, Paul throwing a pass to Griffin as part of the West's 7-0 start. The West led after each of the first three quarters, though was never ahead by more than eight points through three periods.
They finally pushed it into double figures early in the fourth fueled by former Oklahoma City teammates Russell Westbrook and James Harden, but couldn't put it away until a late run behind the guys from the city of Los Angeles — who along with Lakers center Dwight Howard gave Los Angeles all but one of the West's starting spots.
Paul hit two 3-pointers, Bryant made a layup, and his block of James led to Durant's dunk that made it 136-126. Griffin had one last forceful dunk to help close it out, throwing a pass to himself off the backboard and climbing high in his neon green sneakers to slam it home and make it 142-134.
Harden had 15 points in his home arena, where the sights of the game were on the floor and the sounds were at the rim — which shook repeatedly after thunderous dunks for most of the game before, as usual, players tried to make some stops down the stretch.
Players' sneakers were a variety of pastels and fluorescent colors that looked like they came right from Easter Sunday church, many clashing so badly with their multi-colored socks that they may as well have been created by spilling out random paint buckets.
James and Dwyane Wade wore purple, and Griffin's neon look was also sported by the usually-not-so-loud Tim Duncan and Brook Lopez.
But the NBA's high-flyers sure could leap in them. Durant slammed one down so hard at one point that he stumbled backward after landing, appearing woozy. He came in as the career leader in points per game with 28.3 and may have won a second straight MVP award if not for Paul's big finish.
New fan
Ke$ha didn't pay much attention to the NBA until recently when she realized she had a fan in the league.
The pop star was shown a video of Oklahoma City All-Star Russell Westbrook singing along to her hit "Die Young" before a recent game against the Mavericks.
"It was the cutest, hottest thing ever to see a basketball player doing that to my song," Ke$ha said.
Told that Westbrook is known as one of the NBA's most fashionable players because of his unique ensembles, Ke$ha wasn't surprised.
"I'm sure he is, if he likes my music then he must have good taste," she said with a giggle.
Westbrook isn't the only NBA player who has taken a liking to Ke$ha's tunes. She's also been alerted to other video clips of ballers enjoying her work.
"Lots of basketball players like to dance around to my songs, so it's made me more and more of a fan," she said.
Ke$ha, who has an upcoming documentary miniseries on MTV called Ke$ha: My Crazy Beautiful Life, headlined a pre-game concert at Sunday night's All-Star game.
"It's really exciting because it was made by just me and my brother and one of my brother's friends and we traveled around the world together," she said of the documentary. "It was very guerrilla style, do-it-yourself capturing everything that you could imagine or not want to see about my life."