Undersized YSU falls to Green Bay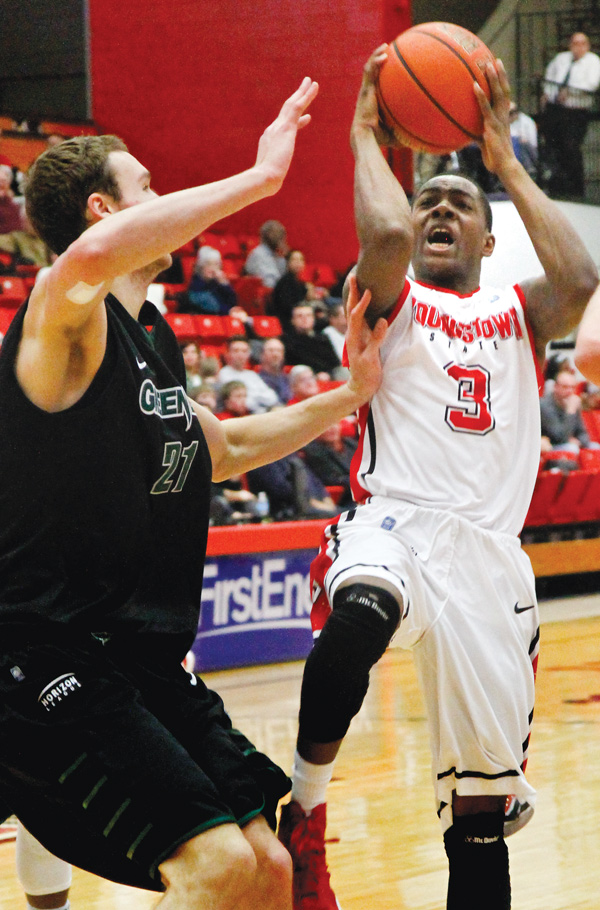 ---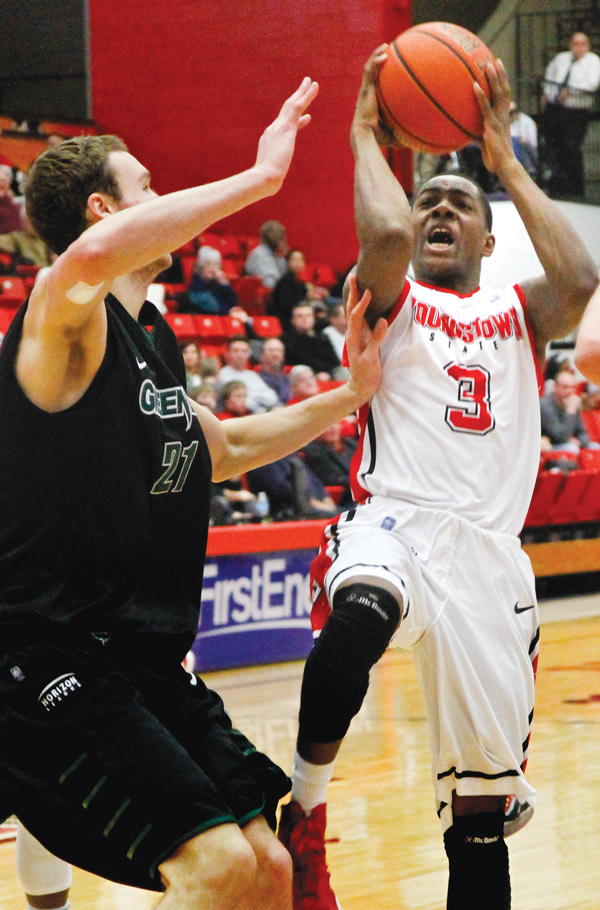 Photo
YSU's Kendrick Perry (3) attempts to shoot the ball while Green Bay's Alec Brown (21) tries to block his shot during the second half of Sunday's game at the Beeghly Center. Green Bay beat the Penguins 71-54.
By Joe Scalzo
YOUNGSTOWN
Over and over again on Sunday afternoon, as his frustration mounted and Youngstown State's deficit grew, Penguins coach Jerry Slocum would scrunch his nose, stomp his foot and yell, "What are we doing?!!!"
The answer? Missing 3-pointers. Missing defensive rotations. Missing rebounds.
And, more than anything else, missing senior Damian Eargle.
Playing their second straight game without their best defensive player, the Penguins couldn't solve Green Bay's size, or its pace, as the Phoenix finished a season sweep of YSU with a 71-54 victory at Beeghly Center.
"I thought it was a horrific effort on our part on the offensive end," said Slocum, whose team shot 33 percent from the field (19 of 57). "They obviously have size and their length affected us.
"In college basketball, if you can't score, you ain't gonna win."
Green Bay started three players 6-foot-7 or taller, including future NBA draft pick Alec Brown (who stands 7-1) and brought two more off the bench to bull its way to 36 points in the paint and 39-24 rebounding advantage.
But it was lightning-quick sophomore guard Keifer Sykes who did the most damage, knifing through YSU's defense for 24 points (including an 8 of 9 performance from the free throw line) with four rebounds and three assists. And while Sykes is comfortable playing at the Penguins' pace, he was the one reminding his teammates to be patient and get back in transition.
"Keifer likes to get up and down and we do, too, but we were smart enough to [remember] we tried to do that here last year and got blown out both times," said Green Bay coach Brian Wardle, whose team lost two games at Beeghly last season by a combined 47 points. "We wanted the game slower.
"If you let Youngstown get going at home, you're in trouble."
Freshman Bobby Hain, who started for Eargle (broken nose), held his own with 14 points and eight rebounds but Youngstown State's guard-heavy lineup scored just eight fast-break points and looked nothing like the team that scored 94 points in a win over Milwaukee on Friday.
"It was just a rough shooting night for us," said YSU junior guard Kendrick Perry, who was 0-for-3 from the 3-point line as the Penguins finished 5 of 25 from behind the arc. "We got some good looks but shots didn't fall for us and I think that kind of weighed in on our defense a little bit."
Green Bay closed the first half with 10 straight points to take a 33-25 halftime lead but Blake Allen opened the second half with back-to-back 3-pointers as YSU went back on top, 36-35 with 16:35 left.
The Penguins managed just 19 points the rest of the way.
"They had their stint to start the second half," said Wardle. "But we thought if we buckled down defensively a little bit, kept changing from man [defense] to zone, and slowed it down on offense, we can be in the game down the stretch."
Brown had 16 points and 6-7 freshman Jordan Fouse had 10 points and 10 rebounds for GB (15-12, 9-5 Horizon), which needed overtime to beat YSU (67-58) in the teams' first meeting on Jan. 17.
Perry had 13, Kamren Belin scored 12 and Allen had 11 for YSU (15-12, 7-7).
"If our guys are anything like me, they're going to feel this one," said Perry. "This one definitely hurts."