Primer on Kasich plan to hike oil, gas taxes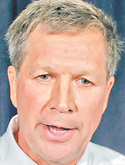 Photo
By Marc Kovac
COLUMBUS
Gov. John Kasich has made no secret about his desire to increase taxes on oil and gas produced in eastern Ohio's growing oilfields, saying the entire state should benefit from the valuable resources in underground shale formations.
But Statehouse Democrats and some Republicans remain skeptical of the governor's plan and are voicing a desire to use the increased tax collections to help local governments and schools. Some also fear a tax increase could hinder future fracking- related economic development.
Proponents and opponents are in the midst of a debate on the issue, via hearings on Kasich's biennial budget plan. Here are 10 things you should know about oil and gas taxes and what the governor is proposing:
222Last year, there were about 1,300 individuals or business entities that filed severance taxes, said Gary Gudmundson, spokesman for the taxation department. Of those, 984 focused solely on oil or natural gas.
222Under current rates, filers pay 10 cents per barrel of oil and 2.5 cents per thousand cubic feet of natural gas produced. Production valued at less than $1,000 is exempt if used on the same property where it is extracted, according to the taxation department. Upward of $10.2 million in total severance taxes were paid in the state in fiscal 2012. The total included more than $2 million in natural gas payments and about $467,000 in oil payments.
22222Increased rates would be enacted for higher-volume, horizontal wells, the focus of oil-field activities in eastern Ohio, with the expanding use of horizontal hydraulic fracturing, or fracking.
According to Tax Commissioner Joe Testa, owners of high-volume horizontal wells would be taxed at a rate of 1 percent for gas and 4 percent for oil, natural gas liquids and condensate. The latter would be taxed at a lower 1.5 percent rate during the first year of production to enable producers to recoup their drilling costs.
The proceeds from collections on horizontal wells would go to the state's general-revenue fund. .
22222The governor is quick to point out that energy companies have already invested billions of dollars in Ohio's oil fields (more than 500 horizontal well permits have been issued to date) the natural resources are here and they're valuable.
And the administration says the proposed rates are lower than in other states.
222As Tom Stewart, executive vice president of the Oil and Gas Association, told reporters last month, "If you want to see this play develop, what you want these producers to do ... is to take their net revenues and plow it back into the ground, just the same way that a farmer takes his net revenues and plants his field. You want these producers to take the money they make plus more and put it back in the ground to make this economic opportunity expand."
222But lawmakers balked, removing the severance tax language from legislation and saying they needed more time to study the issue.
The governor reintroduced the plan as part of his two-year spending proposal, with a lower sales tax broadened to cover services and an income tax cut.
22222"I am concerned on the 200,000 jobs that are projected to come to the state of Ohio," Rep. Cheryl Grossman, a Republican from the Columbus area, said. "I don't want to do anything to discourage that. And I think that we are already seeing tremendous benefits as far as home building, restaurants, hotels where that activity is going on."