Downtown publishing company may be leaving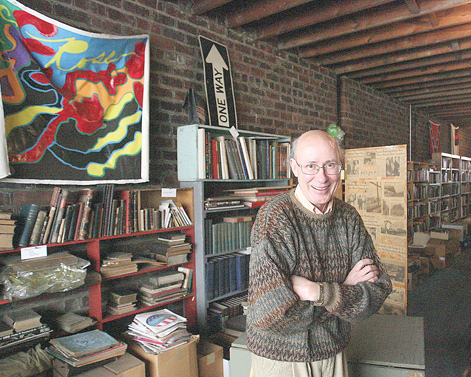 ---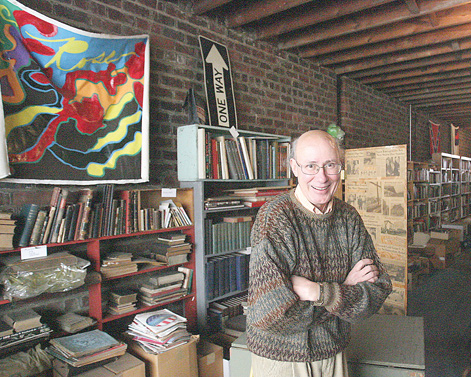 Photo
Pig Iron Press owner Jim Vallani stands inside his publishing shop downtown. He faces loss of the shop at a sheriff 's auction next month. Donations to help save it can be made at First National Bank downtown or by mailing a check to Pig Iron Press, 26 N. Phelps St., Youngstown, OH 44501.
By GUY D'ASTOLFO
YOUNGSTOWN
Jim Villani bought a downtown building 20 years ago and moved Pig Iron Press, his one-man publishing company, into it.
But his days in the long and narrow, three-story structure at 26 N. Phelps St. may be numbered. Villani owes $6,238 on his tax bill and his 6,500-square-foot building will be sold at sheriff's sale on March 5 if he can't make the payment.
Villani has been trying to raise the money. He hosted a fundraiser Feb. 2 that netted $1,000, and is planning another — a wine- and beer-taste — March 1.
But he admits that it's a long shot and already has put his 1910 building up for sale. It's listed by Howard Hanna with an asking price of $95,000.
Villani is considering filing for bankruptcy, which would stall the foreclosure process. But if he has to vacate the building, Villani said he plans to find another location — preferably downtown, but definitely in Youngstown.
He is appealing to the public for donations or even a loan. Donations can be made to the Save Pig Iron Press account, which has been set up at First National Bank at 1 W. Federal St., downtown; or by mailing a check to Pig Iron Press, 26 N. Phelps St., Youngstown, OH 44501. Villani can be reached at 330-747-6932.
Villani pointed out that his bill for unpaid real estate tax was originally $3,800. The county sold the foreclosure lien to American Tax Funding of Jupiter, Fla., along with the right to charge interest on the past-due amount.
Since then, the bill has skyrocketed to more than $15,000. Villani has paid $9,000 on it but still owes the $6,238, which is due the attorney for ATF.
Villani said ATF bought four liens, for the years 2005, 2006, 2008 and 2010.
A writing instructor at Robert Morris University near Pittsburgh and Stark State College in Canton, Villani started Pig Iron Press 40 years ago.
Since then, he has published 125 books, mainly by regional authors and poets, and many programs and newsletters. He also offers copying and other office services.
His building today hasn't changed much over the years, and intentionally so. Originally the home of a cigar shop, it still has wooden floors, a plaster-cast ceiling and molded woodwork. These days, it's also chock full of shelves of books and papers.
Villani hopes to raise enough money to not only pay the back taxes, but also renovate the building while maintaining its historical look and feel.
The Pig Iron Press building has long served as a gathering spot for area writers, who use it for poetry and fiction readings.
Because the book industry is dominated by large publishing companies and chain stores, Pig Iron Press has been a labor of love for Villani, and, as he put it, a break-even venture. Its mission, said Villani, is to create art and provide a service — not to accumulate profit.